by Mollie Katzen
molliekatzen.com
Adapted from The Heart of the Plate: Vegetarian Recipes for a New Generation
4 - 5 Servings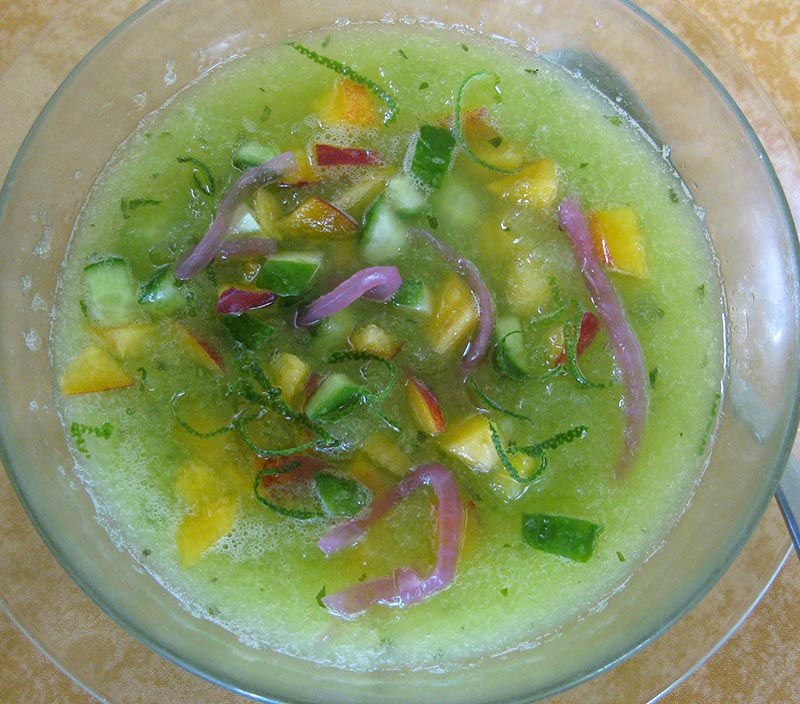 Dappled like a fruit soup version of a Seurat painting, this refreshing summer special might come out slightly different each time, depending on the colors and flavors of your melon and peaches. Make sure to serve it very cold, for maximum effect.
You need to plan ahead for this one – as it's at its best with a good 4-hour chilling time and is even better if it gets to sit in your refrigerator overnight. It's not that it's a lot of work, but rather that the components need time. The pickled onions need at least an hour, and can be made as far ahead as a week or two, stored in a jar with a tight fitting lid in the refrigerator. You will have a lot of them leftover, so you can use them as needed/desired for the many things they go well with. (That would be just about everything savory. They will remain crunchy, delicious, and gorgeous indefinitely.)
1 large red onion (about 3/4 pound)
3 tablespoons wine vinegar (red or white)
2 teaspoons agave nectar, honey, or sugar
1/4 teaspoon salt
------
1 large, perfectly ripe honeydew — peeled, seeded cut into chunks (8 cups)
½ teaspoon grated lime zest (possibly more)
½ cup fresh lime juice (possibly more)
About 20 large fresh mint leaves, stemmed
1 large ripe peach or nectarine, peeled, pitted, and in dice or tiny slices (okay if it mushes a little)
1 small (6-inch) cucumber - peeled if the skin is bitter, and cut into tiny dice
1 tablespoon white wine vinegar (possibly more)
1 teaspoon agave nectar or honey (optional)
A touch of finely minced jalapeno (optional)
Preliminary: Pickled Red Onions

Make these well ahead of time.

Put up a kettle of water to boil. Cut the onion into very thin slices - or just mince them - and place them in a colander in the sink.

In large-enough bowl to comfortably fit all the onions, combine the vinegar, sweetener, and salt, and whisk until blended.

Pour the boiling water over the onion, and shake to loosely drain. (It's fine if a little water still clings.)

Add the doused onion to the vinegar solution, and stir to coat. Let it sit for at least an hour (and up to several days, covered and refrigerated) stirring occasionally to allow maximum exposure to the liquid. Store in a tightly lidded jar in the refrigerator and use as needed.

Assembling the Gazpacho

1) Combine the melon, ½ teaspoon lime zest, ½ cup lime juice, and the mint leaves in a deep bowl, and process with an immersion blender until smooth and frothy. (You can use a food processor or a stand blender, then transfer the mixture to a large bowl.)

2) Measure out ¼ cup of the Pickled Onions, and stir them (au jus is fine) into the purée, along with the peach or nectarine, cucumber, and 1 tablespoon white wine vinegar. Stir to combine, cover tightly (fitted lid or plastic wrap), and refrigerate at least 4 hours (ideally overnight).

3) Shortly before serving, taste to see if it needs additional touches of vinegar, zest, lime juice, and/or sweetener. Serve cold, possibly topped with a light scattering of finely minced jalapeno.