by Mollie Katzen
molliekatzen.com
4-5 servings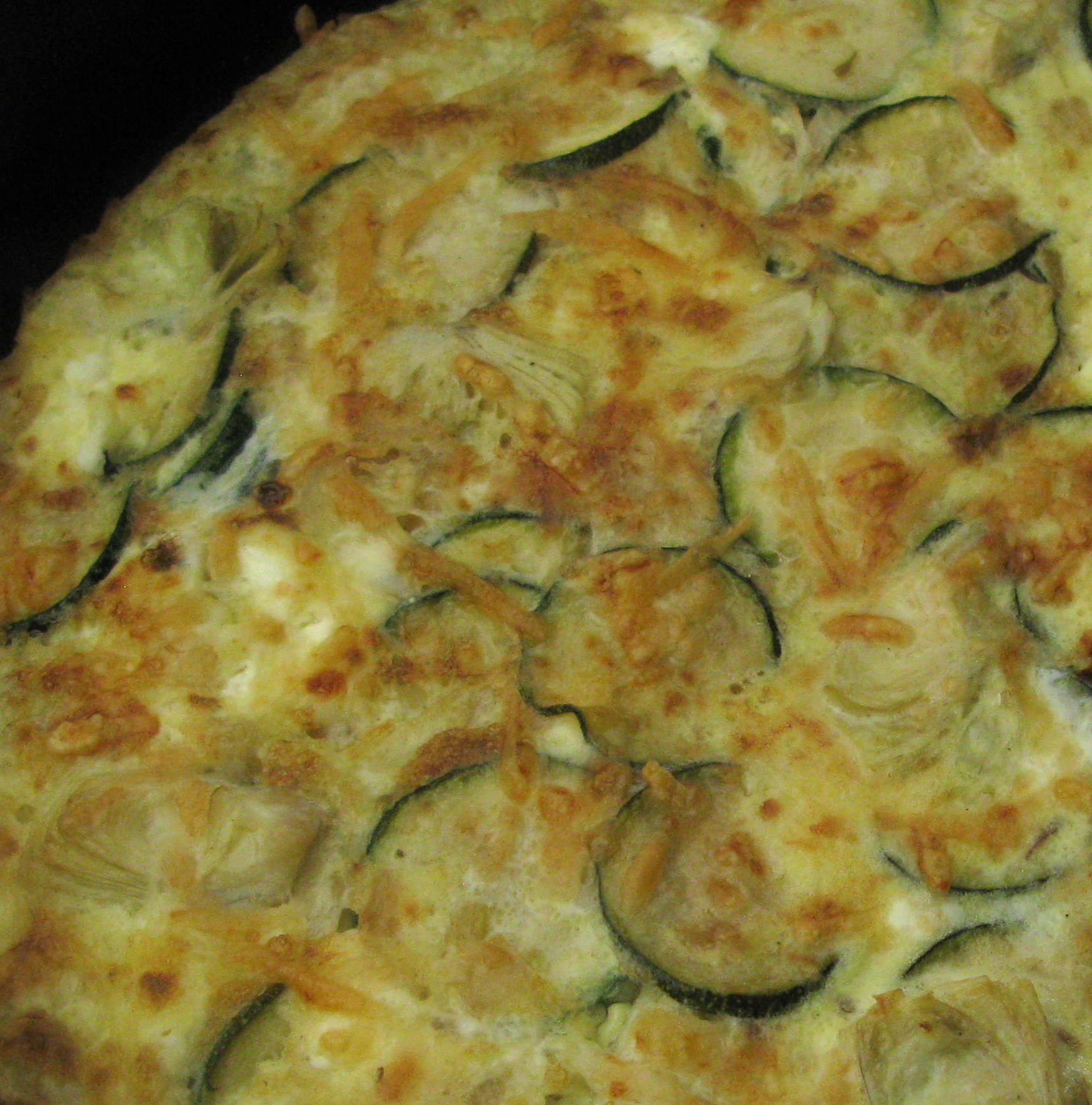 Adapted from The Heart of the Plate: Vegetarian Recipes for a New Generation
This frittata is like a crustless, veg-centric quiche. The zucchini, onion, and artichoke hearts—abstractly stacked like interlocking puzzle pieces, lightly spotted with goat cheese—provide the foreground. The egg serves mostly just to hold them together. Note that this preparer-friendly dish is both forgiving (you don't have to walk on eggshells [sorry] as you might with an omelet) and forgiveness-worthy (if it breaks at any point, just piece it back together). This is a true keeper and a confidence-builder for any beginning cook.
Room temperature eggs acquire much more volume when beaten than cold ones, so if you think of it—and your kitchen is not too hot— take the eggs out of the refrigerator a few hours ahead of time. Break them into a bowl while they are still cold, and then cover the bowl with plastic wrap or a plate.
8 large eggs, ideally at room temperature
3 tablespoons olive oil
2 cups minced onion (about ¾ pound)
Pinch each thyme and rubbed sage
1 teaspoon salt
2 small zucchini (8 ounces) in1/8-inch coins
8 ounces (1 ½ cups) canned quartered artichoke hearts—rinsed, drained and thoroughly dried
1 tablespoon white wine vinegar
Black pepper
5 ounces goat cheese
Nonstick spray
¼ cup grated or shredded Parmesan
Break the eggs into a large bowl, cover, and let them rest at room temperature while you prepare the other ingredients.
Place a medium-sized (9- or 10-inch) skillet over medium heat and wait about a minute, then add 1 tablespoon olive oil and swirl to coat the pan. Toss in the onions, spreading them out in the pan. Cook, stirring often, for about 10 minutes over medium heat – or until translucent. Add the zucchini and artichoke hearts, plus ½ teaspoon salt, and continue to cook, stirring often, for another 8 to 10 minutes or until the onions are golden and the zucchini is tender. Stir in the vinegar and some black pepper, and remove from heat.
Beat the eggs with a large whisk until smooth, adding another ½ teaspoon salt as you go. Scrape in the sautéed vegetables plus all the flavor from the pan, then crumble in the goat cheese, and stir until blended.
Clean and dry the skillet , spray it with nonstick spray, and return it to the stove over medium heat. Heat the broiler to 500°F.
When the skillet is hot again, and keeping it over medium heat, add the remaining 2 tablespoons olive oil, wait about 30 seconds, and swirl to coat the pan. Pour in the vegetable-egg mixture and let it cook undisturbed over medium heat for 3 to 4 minutes, or until the eggs are set on the bottom.
Sprinkle the top with the Parmesan, then transfer the skillet to the preheated broiler, and broil for about 3 minutes, or until the frittata is firm in the center and golden on top. Remove the pan from the broiler, and run a rubber spatula around the edge to loosen the frittata. Slide or invert it onto a large, round plate, and serve hot, warm, or room temperature, cut into wedges.

Optional Enhancements

For a beautiful color accent, add 2 to 3 leaves of finely chopped ruby chard, including some of the stem.

For more intense flavor, add 1 teaspoon minced or crushed garlic to the onion after the first 5 minutes of cooking.

Feta can substitute for the goat cheese. If so, consider reducing the salt to ¾ teaspoon.

Serve surrounded by a moat of halved (unless tiny) very sweet cherry tomatoes (orange ones, in summer, are especially great)

Thinly sliced, cooked potatoes can be layered in with the zucchini—in addition to, or instead of, the artichoke hearts.