by Mollie Katzen
molliekatzen.com
From The Heart of the Plate: Vegetarian Recipes for a New Generation
6-8 servings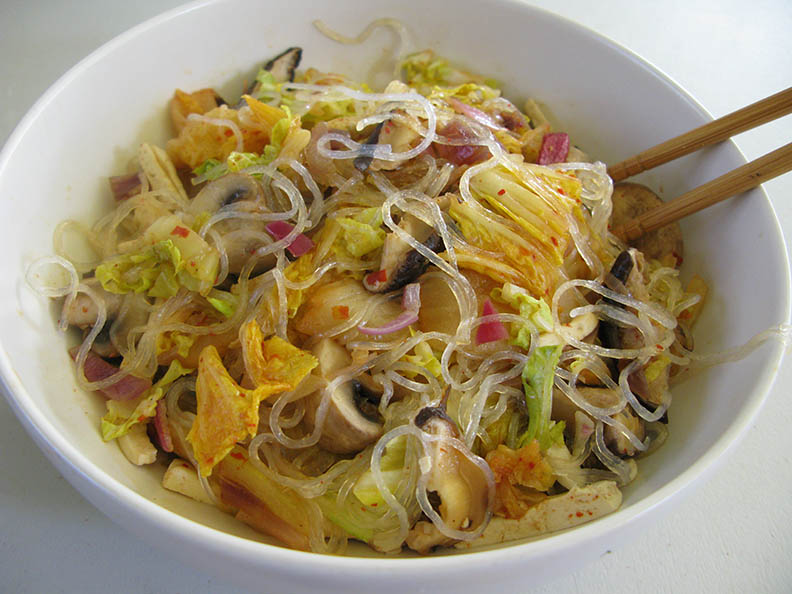 Delightfully slippery noodles; soft tofu, ever-so-slightly crunchy cabbage, chewy mushrooms, and hot and sour kimchi make this a sensuous, even mysterious texture-fest. It stores and reheats well, adding an always-welcome convenience factor.
• Bean thread, aka "cellophane," noodles are commonly (and inexpensively) available in most Asian grocery stores. They cook up quickly.
• There are many kinds of kimchi. Some are hotter—also some are sweeter—than others. Flavor characteristics are usually indicated on the label. Taste around to discover your preferred brand. Personally, I like the hot kind for this. Whichever kind you use, be careful when opening the jar. Because it is fermented (and still active) it's a lot like opening a bottle of beer or sparkling wine, creating its own little celebration. In other words, do this over the sink.
• Consider using a roasted, rather than plain, peanut oil – both for the initial frying and also to "dress" it afterwards—in addition to, or instead of, the toasted sesame oil. It's an aromatic oil usually used for finishing, but sturdy enough to cook with.
3 to 4 ounces uncooked bean thread noodles
2 tablespoons peanut oil (roasted or plain) —or grapeseed oil
4 cups chopped onion
3/4 pound fresh shiitake mushrooms, stemmed and sliced
8 ounces very firm tofu, cut into thin strips
1 teaspoon salt (possibly more)
1 pound fresh mushrooms (can be more), stemmed if necessary and quartered (nice departure from sliced – textural fun)
½ pound savoy (aka Napa) cabbage, in thin strips (4 cups)
1 jar kimchi (14 ounces) – all contents
Cook the noodles in boiling water for 1 minute, then drain and rinse them in cold running water. Set them aside in a container of cold water until ready to use. (This keeps them separate.)
Place a soup pot, large saucepan, or Dutch oven over medium heat and wait about a minute. Add the oil, swirl to coat the pan, and then add the onion, shiitakes, tofu, and ¼ teaspoon salt. Keep heat to medium or slightly stronger, as you stir and cook the mixture for about 5 minutes (until the onions begin to soften.) Stir in the domestic mushrooms and another ¼ teaspoon salt, and cook for another 5 minutes, stirring often.
Add the cabbage and another ¼ teaspoon salt. Stir from the bottom to bring up the cooked vegetables as you incorporate the cabbage. When it looks well blended, cover the pot, and reduce the heat to medium-low, and let it stew for about 10 minutes, adding another ¼ teaspoon salt after the first 5 minutes or so.
Add the kimchi with all its liquid, possibly going in with scissors to cut any too-large pieces smaller (whatever is "bite-sized" to you. It's also okay to leave them large.) Stir to blend, then thoroughly drain and add the noodles, stirring them in with a fork. No need to cook further at this point. Taste for salt - it might want just a touch more.
Serve hot or warm, with any of the optional toppings.

Optional Toppings:

• Torn cilantro leaves

• A drizzle of Chinese toasted sesame oil or roasted peanut oil

• A few drops of seasoned rice vinegar

• Sriracha or chili oil - or another chili sauce

• Red pepper flakes

• Chopped, toasted peanuts or cashews

• Steamed edamame (green soy beans) – really pretty on top!

• Cooked green beans (thin ones- or cut lengthwise)

• Strips of omelet