by Mollie Katzen
molliekatzen.com
Adapted from The Heart of the Plate: Vegetarian Recipes for a New Generation
4-5 servings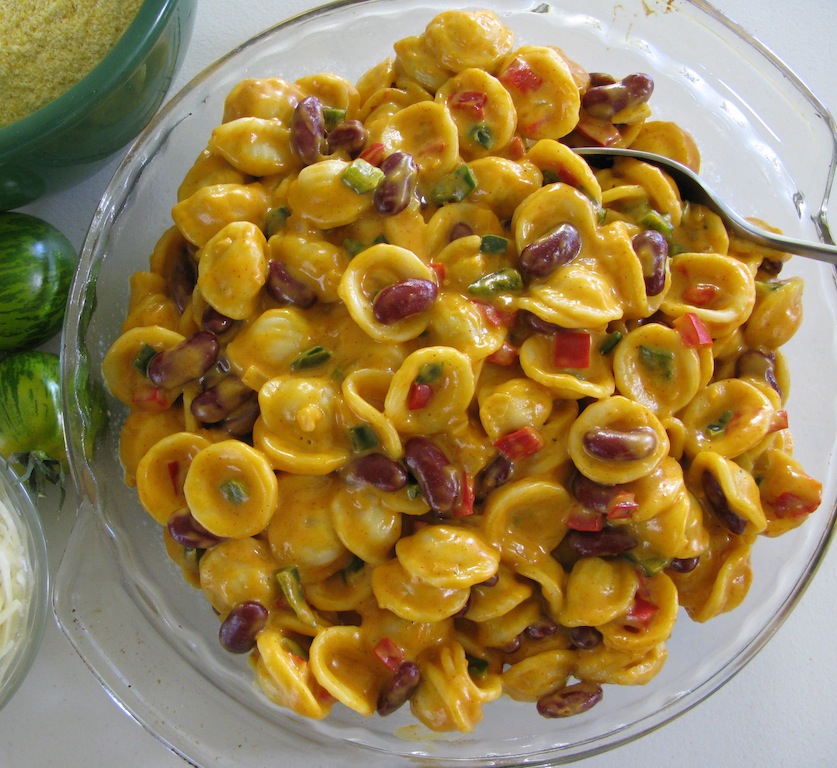 Beany and slightly spicy, this recipe combines two traditional American favorites. The tawny effect from combining red kidney beans, colorful peppers and chilies, and chlii powder is further enhanced if you use an orange cheddar. Not essential, but lovely. I love to serve this dish with a side (or a topping) or fried green tomatoes.
• This calls for a standard chili powder. They all differ, so find and adopt your own favorite. Depending upon our palate, you could add touches of New Mexico chili powder (ground, dried New Mexico chilies) and/or chipotle chili powder (ground, dried, smoked jalapenos) in addition to the regular chili powder.
• One 15-ounce can of kidney beans will do it for this recipe. If you happen to have 1 1/2 cups of home-cooked beans on hand, go ahead and use them.
Nonstick cooking spray
1/2 pound orrechiette, elbow macaroni, or equivalent-sized shells
2 cups milk (low-fat okay)
2 tablespoons olive oil (plus a little for the pasta)
1 cup minced onion
1 small sweet bell pepper, diced (1 cup)
1 medium Anaheim or poblano chili, minced (1/2 cup)
1 teaspoon minced or crushed garlic
1 tablespoon chili powder
½ teaspoon ground cumin
1 teaspoon salt
1 1/2 tablespoons unbleached all-purpose flour
1 ½ cups (packed) grated sharp cheddar (6 ounces)
6 tablespoons grated or shredded Parmesan cheese
1 15-ounce can red kidney beans – rinsed and thoroughly drained
Black pepper
Cayenne or crushed red pepper
1. Preheat the oven to 350°F- with a rack in the highest position that will fit your baking pan. Lightly spray a 2-quart baking dish or an 8-inch square pan with nonstick spray.

2. Put on a medium-large pot of water to boil. When the water boils, add the pasta, keeping the heat high. Cook the pasta until just tender enough to bite into comfortably, then drain, and transfer to a bowl. Toss with a little olive oil and set aside.

3. Heat the milk - ideally in a spouted measuring cup in a microwave - until it is steaming and too hot to touch. Set the hot milk near the stove.

4. Place a medium-large saucepan over medium heat for about a minute, then add the olive oil and swirl to coat the pan. Toss in the onion and cook, stirring often, for about 3 minutes, or until it begins to soften. Stir in the bell pepper, chili, and garlic, along with the spices and ½ teaspoon of the salt. Cook over medium heat, stirring often, for 5 minutes.

5. Turn the heat to low, then sprinkle in the flour , whisking constantly; it will quickly become a paste. Continue to whisk and cook for another 15 seconds or so.

6. Keep the pan over low heat as you drizzle in the hot milk, whisking constantly. Add the remaining ½ teaspoon salt, and cook, stirring with a wooden spoon, for about wo minutes, until the mixture is thick and smooth. Sprinkle in 3/4 cup of the cheddar and 4 tablespoons of the Parmesan, stirring until the cheese is fully incorporated.

7. Remove the sauce from the heat, then add the cooked pasta, along with the beans and the 2 tablespoons Parmesan. Stir until all the pasta and beans are well coated, being careful to avoid breaking the beans. Sprinkle in some black pepper plus touches of cayenne or crushed red pepper to taste, as you go.

8. Transfer to the prepared baking pan. Sprinkle with the remaining 3/4 cup cheddar. Bake uncovered for 15 to 20 minutes, or until bubbly around the edges and crisp and golden on top. Serve hot.