by Mollie Katzen
molliekatzen.com
From The Heart of the Plate: Vegetarian Recipes for a New Generation
Makes about 4 dozen tiny cakes (up to 8 per serving)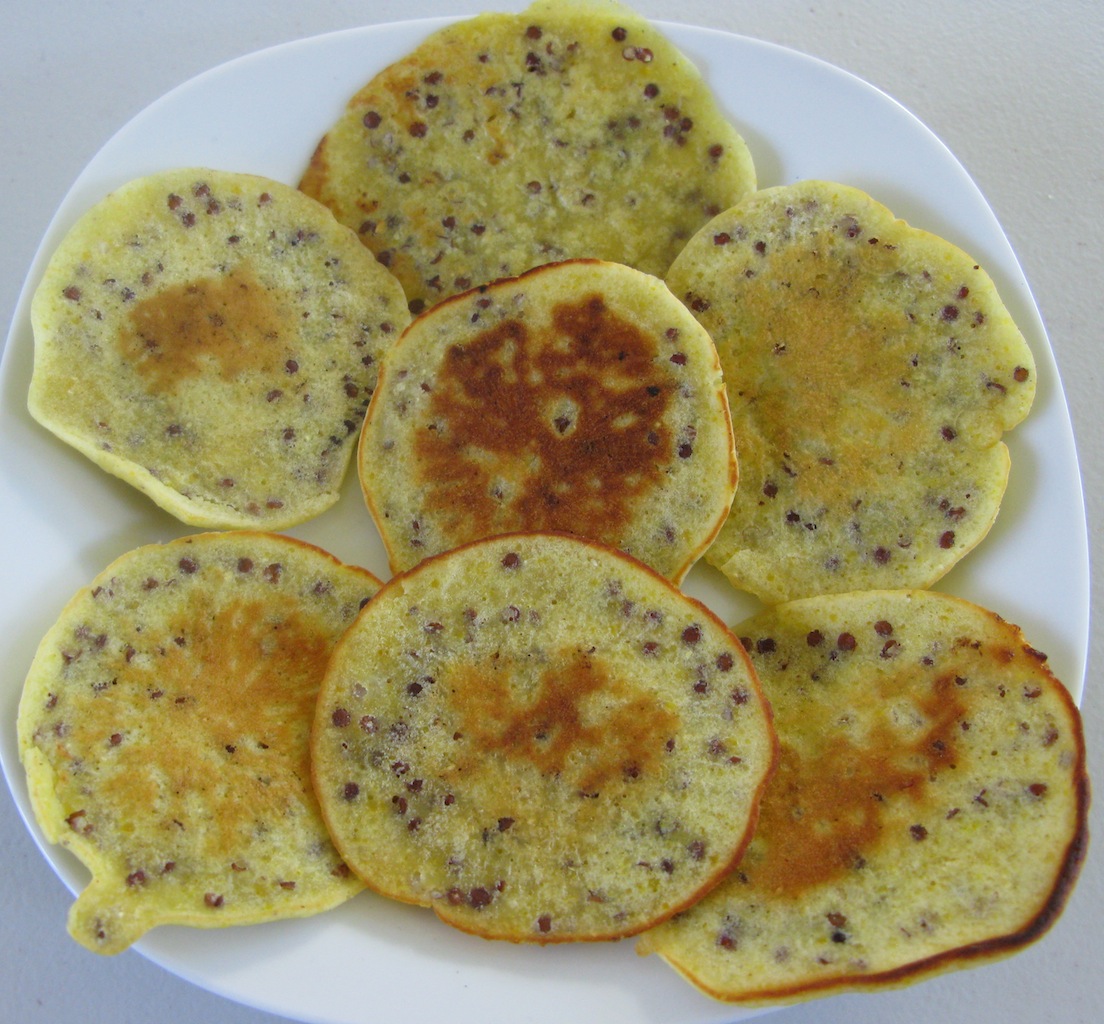 Cooked quinoa is stirred into a simple batter with otherworldly results. These tender, easy "blini" are a reliable crowd-pleaser as an appetizer, side dish (dotted, perhaps, with sour cream), or light main dish for breakfast (ideally with a dab of blackberry jam).
• It's nice to use red quinoa for this, so it will be more visitble within the yellow cakes.
• To cook the quinoa, at least 45 minutes ahead of time, combine 1/2 cup rinsed quinoa and 3/4 cup water in a small saucepan. Bring to a boil and lower the heat to the slowest possible simmer (with a heat diffuser, if you have one, underneath). Cover and simmer for 30 minutes, or until all the water is absorbed. Fluff with a fork as you let it cool a little, then measure out a packed 1/2 cup to use for this recipe. You can use any leftover cooked grains to sprinkle into a salad or on top of a cooked vegetable (very nice touch).
• The batter can be made as much as a day ahead and refrigerated in a tightly covered container. Stir to recombine before cooking.
1/2 cup unbleached all-purpose flour
1/2 cup yellow cornmeal (the finely milled kind; not polenta)
1/2 (packed) cup cooked quinoa (see note above)
2 teaspoons sugar
Scant 1/2 teaspoon salt
1/2 teaspoon baking powder
1/4 teaspoon baking soda
1 cup buttermilk
2 large eggs
2 teaspoons grapeseed or canola oil
Butter for the pan
1. In a medium-sized bowl, stir or whisk together the flour, cornmeal, quinoa, sugar, salt, baking powder, and baking soda. Make a well in the center.

2. Measure the buttermilk into a liquid measuring cup and break in the eggs. Whisk until well blended, adding the oil as you go. Pour this mixture into the well in the dry ingredients.

3. Using a spoon or rubber spatula, mix with a few swift strokes until the batter is pretty much uniform. (A few tiny lumps are okay.) Don't overmix.

4. Melt a little butter in a medium-sized skillet over medium heat and swirl to coat the pan. When the butter is hot enough to instantly sizzle a bread crumb, use a teaspoon to drop rounded-teaspoon-sized dots of batter into the pan. Cook for 2 to 3 minutes on each side, until golden. Serve right away. (You'll likely need to cook these in batches, so you can eat in shifts, or keep the finished ones warm in a 200°F oven and just serve as soon as possible.)