by Mollie Katzen
molliekatzen.com
From The Heart of the Plate: Vegetarian Recipes for a New Generation
4-5 servings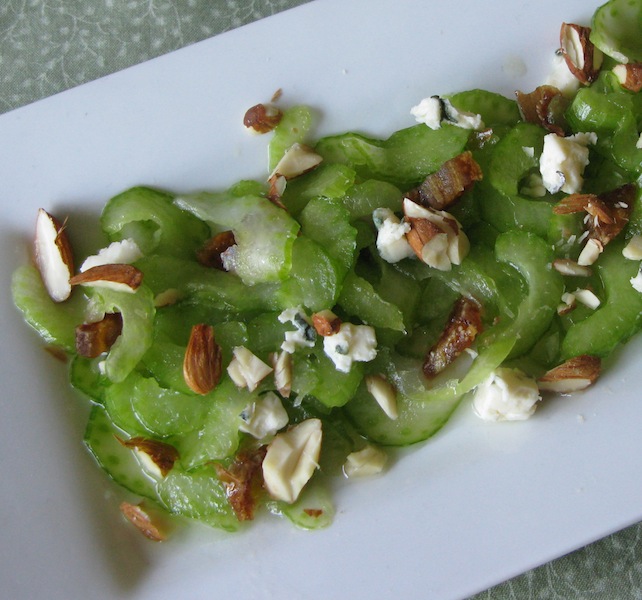 Celery doesn't get top billing very often—an understandable, but somewhat sad fact that makes this dish even more of a standout and conversation piece than it already is. The olive oil, lemon, dates, blue cheese, and almonds are so at home here, it will seem as though they made this dish without you —volunteering for it, and jumping into it, on their own while you were out doing something else. The Yiddish word "beshert," comes to mind. "Meant to be."
• This is delicious free-standing, as an appetizer, side dish, or after-entrée refresher.
• Use a very sharp knife — or possibly even a mandoline — to slice the celery super thin.
• This is a good opportunity to buy and taste a small amount of a blue cheese you might have been curious about. If you add the cheese sooner, it blends into the dressing. If you wait and then sprinkle it on top at serving, it will be more distinct.
• The cheese provides more than enough salt for the recipe. People can add some at the table, if they desire.
1 tablespoon extra-virgin olive oil
2 teaspoons fresh lemon juice
1 teaspoon light-colored honey
3 large stalks celery, very thinly sliced
4 to 6 dates, pitted and chopped
1 to 2 ounces high-quality blue cheese, crumbled
¼ cup almonds, chopped and lightly toasted
Black pepper
Combine the lemon juice, honey, and olive oil in a medium-sized bowl, and whisk to blend.
Toss in the celery and dates (you might need to separate them a bit with your fingers), and stir to coat. You can stir in the crumbled blue cheese at this point, or wait until later. Cover and chill for at least an hour (and overnight is fine).
Serve cold or at cool room temperature, topped with blue cheese (if you didn't add it earlier), a sprinkling of almonds, and a delicate amount of black pepper.