by Mollie Katzen
molliekatzen.com
From The Heart of the Plate: Vegetarian Recipes for a New Generation
5 - 6 servings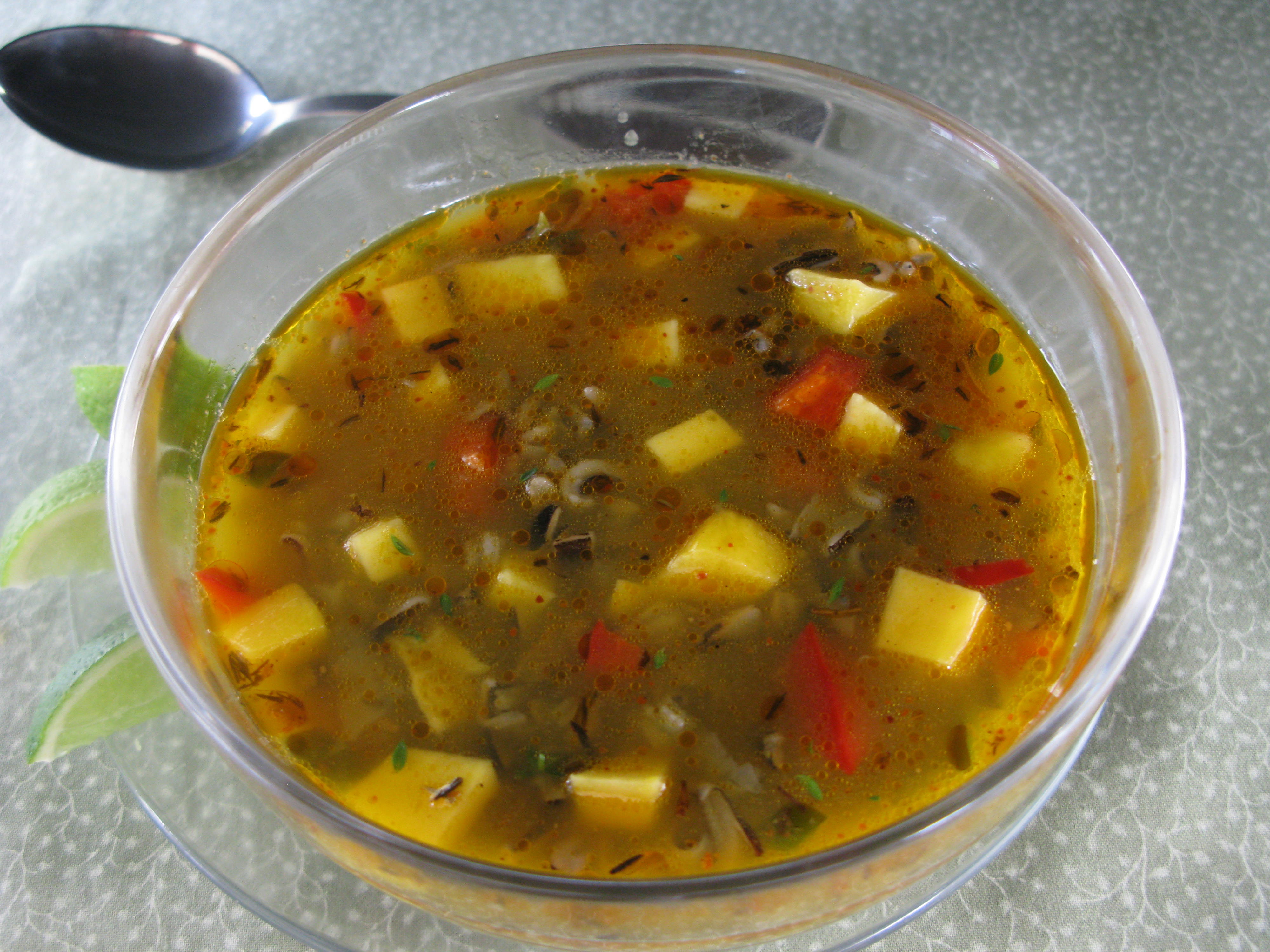 Wild rice partners amazingly well with bright chunks of mango in a chili-laced backdrop. The interplay of sweet mangos and pepper, bitter-ish wild rice, and the possible addition of some sour citrus is what makes this so good.
• Be sure to give the wild rice a 40-or-so-minute head start (first step).
• Frozen mango works beautifully for this, and conveniently comes in one-pound bags – the exact amount the soup requires. If you have access to fresh mangoes, and are willing to roll up your sleeves and extract their pulp, it's fine to do so. You'll need to begin with about 3 pounds fresh whole mangoes to end up with the necessary amount for the soup. Don't worry about smushing them while peeling and extracting the pits, as mango pulp will work very well. This is a soup, after all, and you don't need neat little units.
• Some mangoes are sweeter than others. Most of the tests I ran on this recipe ended up quite sweet (in a good way) and called out for lime juice to add a nice, tart edge. But I made this again just the other night (not a test, it was dinner…I do love this soup) and the mango was so tart, I actually needed to add a drop of honey. So – taste your own batch and decide.
• If your soup comes out on the sweet side, don't skimp on the lemon or lime wedges at serving time. Make them chubby and squeezable.
• This calls for chili powder, although there really is no standard formula. They all differ, so find and adopt your own favorite. And depending upon your palate, you could go beyond this (hotter and possibly even smoky) by adding touches of New Mexico chili powder (ground whole, dried New Mexico chiles) and/or chipotle chili powder (ground whole, dried smoked jalapenos) when you add the regular chili powder.
• Red rice (Bhutanese or Weehani) can substitute for the wild rice.
• This soup benefits from some serious simmering. You can serve it right away, or store it in the refrigerator for up to five days or even longer. It reheats very well, but does thicken during storage, so you can thin it with a little additional water or vegetable stock, if you like. Okay, also, to freeze.
½ cup wild rice
4 cups water
1 teaspoon salt, or more to taste
1-2 tablespoons olive oil or grapeseed oil
1 ½ cups finely minced onion (1 medium)
1 tablespoon chili powder (plus up to a teaspoon each of other chili powders, if desired – see note above)
1 teaspoon dried thyme
1 ½ tablespoons minced or crushed garlic
1 medium-sized red bell pepper, minced
1 medium-sized poblano or Anaheim chili, minced
1 pound frozen mango chunks, chopped while still frozen into tiny dice (or 3 pounds fresh mangoes - pitted, peeled, chopped)
3 cups water or low-sodium vegetable stock (possibly more)
Up to 2 tablespoons fresh lemon or lime juice (optional)
Light-colored honey (optional)
Black pepper
Crushed red pepper
Lemon or lime wedges (optional)
Optional Enhancement
Cooked red or white beans (to make it more of a stew) – several tablespoons per serving.
1) Combine the wild rice, 4 cups water, and 1/2 teaspoon of the salt in a soup pot, large saucepan, or Dutch oven, and bring to a boil. Lower the heat to a simmer, cover, and cook until the wild rice is soft – about 45 - 50 minutes. (If some water remains in the bottom of the pot, no worries. Simply include it in the soup.)

2) Meanwhile, place a medium-sized skillet over medium heat for about a minute, then add 1 tablespoon of the oil and swirl to coat the pan. Add the onion, chili powder(s), and thyme, and cook, stirring often, for 5 minutes.

3) Stir in ½ teaspoon salt, plus the garlic, bell pepper, and fresh chili. Turn the heat to medium-low, and continue to sauté another 10 minutes or so, or until the vegetables become very soft. (You may add up to a tablespoon of additional oil, if it seems necessary.)

4) When the rice is very tender and the vegetables are very soft, add the vegetables to the rice, along with the mango and 3 cups water or stock.(Scrape in all the vegetable bits that might have adhered to the pan, using a little extra water or stock get it all included.)

5) Bring the soup to a boil, lower the heat to a simmer and cook very slowly for about 15 minutes, partially covered, with a heat diffuser, if you have one, underneath to keep the simmer very gentle.

6) Taste to see if you'd like to add some lemon or lime juice, then taste to see if it needs more salt. (Conversely, if it seems too tart due to contrarian mangoes, you might want to add a little honey.) Sprinkle in generous amounts of black pepper and crushed red pepper to taste, and serve hot, with squeezable lemon or lime wedges, if desired, on the side.