by Mollie Katzen
molliekatzen.com
4-6 servings
From The Heart of the Plate: Vegetarian Recipes for a New Generation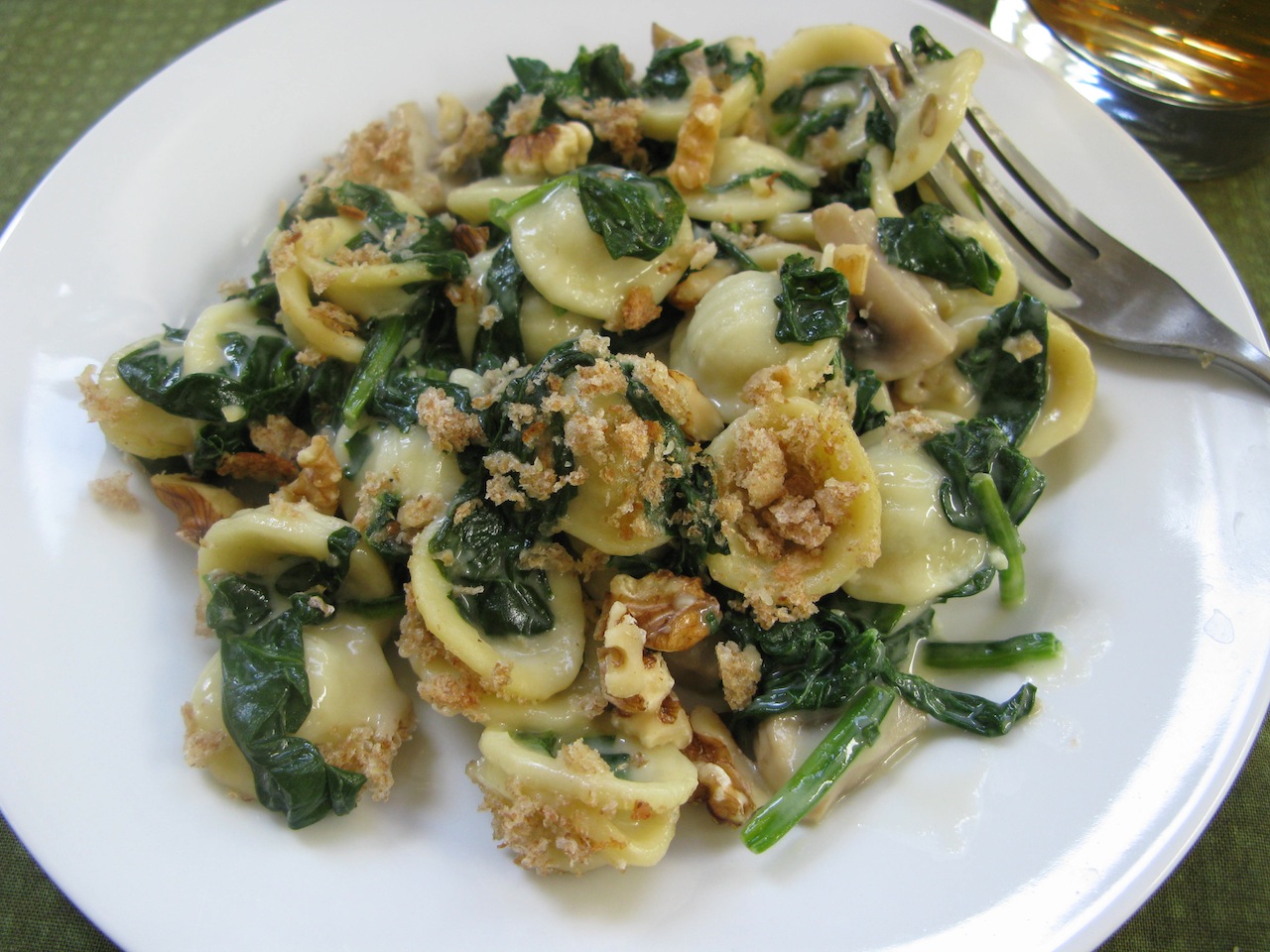 ...made with Your Favorite Beer
A golden path to popularity, this is a great use for leftover, flat beer. It can also be made with present-tense, still-perky beer— in the unlikely event that "leftover" means the other half of the one you're drinking while you read this.
• Different beers can yield vastly different flavors, and it's fun to experiment with various light and dark varieties when making beer-cheese sauces, such as this one (which is a riff on Welsh rarebit). Continuing the fun theme, plan to drink something that matches (chilled bottles from the same 6-pack, perhaps?) with your dinner.
• If beer is not a plan for you, swap in an extra cup of milk.
• In a pinch, you can use frozen chopped spinach instead of fresh. Defrost thoroughly, and squeeze as dry as possible ahead of time.
Nonstick spray
½ pound orrechiette, elbow macaroni, or equivalent-sized shells
1 tablespoon olive oil (plus extra for the pasta)
1 cup milk
1 tablespoon unsalted butter
1 teaspoon minced or crushed garlic
½ pound mushrooms – wiped clean, stemmed as necessary, and chopped or sliced
1 teaspoon salt (or more to taste)
1 teaspoon prepared mustard (Dijon or plain yellow)
2 tablespoons unbleached all-purpose flour
1 pound fresh spinach, cleaned, stemmed as necessary and chopped (4 very packed cups)
1 cup room-temperature beer (your choice)
1 ½ cups (packed) grated sharp white cheddar (about 6 ounces)
3/4 cup fresh whole wheat bread crumbs
½ cup minced walnuts (optional)
Lightly spray a 2-quart baking dish or 8-inch square pan with nonstick spray.
Set the oven rack on the highest rung that will fit the pan, and preheat the oven to 350°F.
Put up a medium-large pot of water to boil, and place a colander in the sink. When the water boils, add the pasta, keeping the heat high. Cook the pasta until just tender enough to bite into comfortably, then drain, and transfer to a bowl. Toss with a little olive oil, and set aside.
Heat the milk (ideally in a spouted measuring cup in a microwave) until it is very hot—not boiling, just steaming and too hot to touch. Set the hot milk near the stove.
Place a medium-large saucepan over medium heat and wait about a minute, then add the olive oil, and swirl to coat the pan. Toss in the butter, letting it melt into the oil.
Add the mushrooms and ½ teaspoon of the salt, and cook, stirring, over medium-low heat for 5 minutes.
Whisk in the garlic and mustard, and then sprinkle in the flour with one hand as you continue to whisk with the other. (Mushroom pieces might get caught in the tines; just shake them free.) It will quickly become a paste, after which, continue to whisk for another 15 seconds or so.
Keep the pot over low heat as you drizzle in the hot milk, whisking with your free hand. When the milk is incorporated, whisk in the beer. Increase the heat to medium, and keep stirring (wooden spoon now) as you add the chopped spinach and another ½ teaspoon salt. Cook for about 5 minutes, or until the spinach wilts its way into the sauce. Remove the pot from the heat, and stir in both the cooked pasta and the cheese. It will be gratifying.
Taste for salt, add a touch more if you wish, then transfer the mixture to the prepared pan. Top with bread crumbs and walnuts, if desired, and bake uncovered for 15 to 20 minutes, or until bubbly around the edges and crisp and golden on top. (It might look loose on its way into the oven, but will pull itself together by the time it comes out.) Serve hot.