by Mollie Katzen
molliekatzen.com
3-4 servings
From The Heart of the Plate: Vegetarian Recipes for a New Generation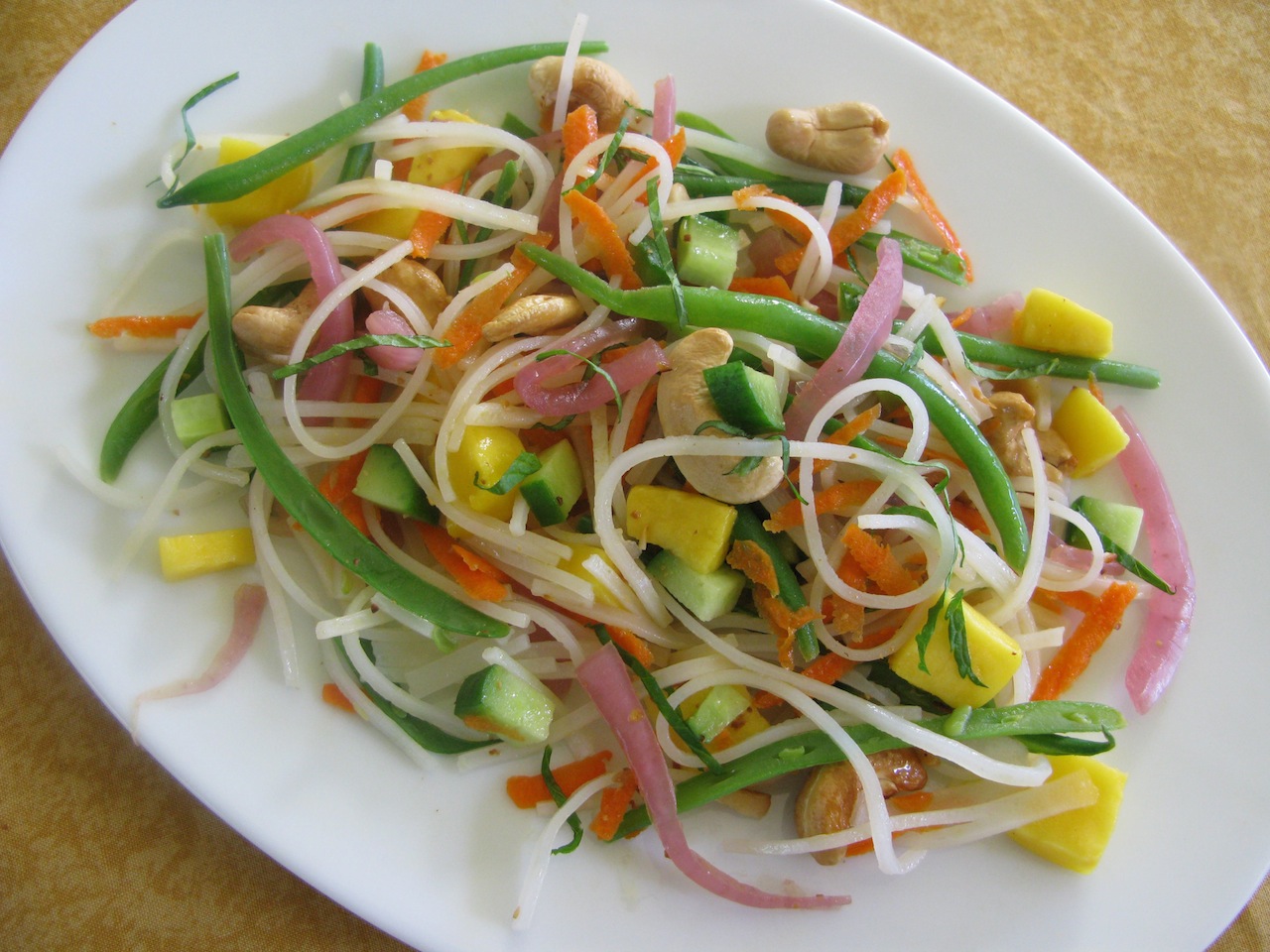 Green beans, cashews, mint, carrot, cucumber, and lime shine through the pearly noodles in this very pretty, mood-lifting dish. The noodles will seem undercooked at first, but they will soften as they absorb the marinade and the moisture from the other ingredients. If you cook them all the way, the finished dish would be mushy.
• Rice noodles of various thickness can be purchased inexpensively in most Asian-themed grocery stores, some supermarkets, and online. Use medium-thin ones for this recipe.
• You can freeze the unused coconut milk in an ice cube tray, then transfer the cubes to a heavy-gauge zip-style bag for making this (or something else) in the future. Don't forget to label the bag.
• Frozen unsweetened mango chunks are widely available in supermarkets, near the other frozen fruit - and can easily stand in for fresh. It's easiest to dice it while still frozen. Use 1 heaping cup.
• The green beans can be halved lengthwise for extra elegance, if you have the patience and a nice, sharp knife. You can also just cut them in half across the middle.
• This tastes best within a few hours of being assembled. So plan accordingly.
1 medium red onion, thinly sliced
2 tablespoons cider vinegar
4 teaspoons sugar or agave nectar
3/4 teaspoon salt
2 tablespoons fresh lime juice
¼ teaspoon minced or crushed garlic
2 tablespoons grapeseed oil or canola oil
Half a can reduced fat coconut milk (about ¾ cup)
4 ounces medium-width rice noodles
1/3 pound slender green beans, trimmed and cut in half
1 small (6-inch) cucumber —peeled only if the skin is bitter, and diced
1 medium carrot, coarsely grated
1 ripe, sweet mango—peeled, pitted, cut in 1/2-inch dice —or a generous cup diced frozen mango
About 10 fresh mint leaves, in thin strips
1 cup lightly toasted cashews, chopped or whole
Optional Enhancements
• Minced jalapeno scattered through
• A touch of lime zest to give it more zing
• Lime wedges
• Toasted unsweetened coconut on top
• Minced basil (regular or Thai) and/or cilantro on top
• Chili paste or Sriracha on the side
Put on a kettle of water to boil. Place the sliced onion in a colander in the sink.
Meanwhile, combine the vinegar with 2 teaspoons sugar or agave and ¼ teaspoon salt in a bowl (large enough to fit the onion) and whisk to blend.
Pour the boiling water over the onion, shake to drain, then add the onion to the vinegar mixture and stir to coat. Let this sit (stirring occasionally) while you prepare the rest of the recipe.
Combine the lime juice, garlic, 2 teaspoons sugar or agave, and the remaining ½ teaspoon salt, in a medium-large bowl and whisk to blend. Keep whisking as you drizzle in the oil until it is incorporated; set aside.
Place a colander on a plate next to the stove, and have a pair of tongs or a spider skimmer handy.
Combine the coconut milk and 3 cups water in a medium-sized saucepan, and bring to a boil. Add the noodles and cook for exactly 3 minutes (best to use a timer). Use the simmer or tongs to lift them out (leaving the pot on the heat) and transfer them to the waiting colander. (They will be noticeably al dente.) Shake the colander over the plate to drain and dry the noodles, then transfer them directly to the marinade in the bowl. Turn/lift with tongs and/or a fork to get them coated.
Return the colander to the plate (emptied of any water) near the stove. Add the green beans to the simmering water-coconut mixture. Cook them for about 5 minutes, or until just tender, then use the skimmer or tongs to lift them into the colander to drain. (You can save the coconut broth to make a little soup snack for yourself - see below.)
Add the green beans (okay if still hot), along with ½ cup of the onions to the noodle mixture, mixing gently with tongs and/or a fork until combined. (Use a fork to grab the onions, leaving their liquid behind.)
Let the salad cool to room temperature, then add the cucumber and carrot. Cover and chill for about 2 hours.
Stir in the mango, mint, and most of the cashews shortly before serving. Serve topped with the remaining cashews, and any combination of the enhancements.

Little Soup Snack: A treat for the cook. Don't discard any leftover coconut-graced cooking liquid. Instead, make it into a little cook's snack by adding tiny touches of lime juice, sugar, salt, garlic— and a torn basil leaf. Sip happily while finishing the recipe