by Mollie Katzen
molliekatzen.com
2 servings (easliy multiplied)
Adapted from Sunlight Café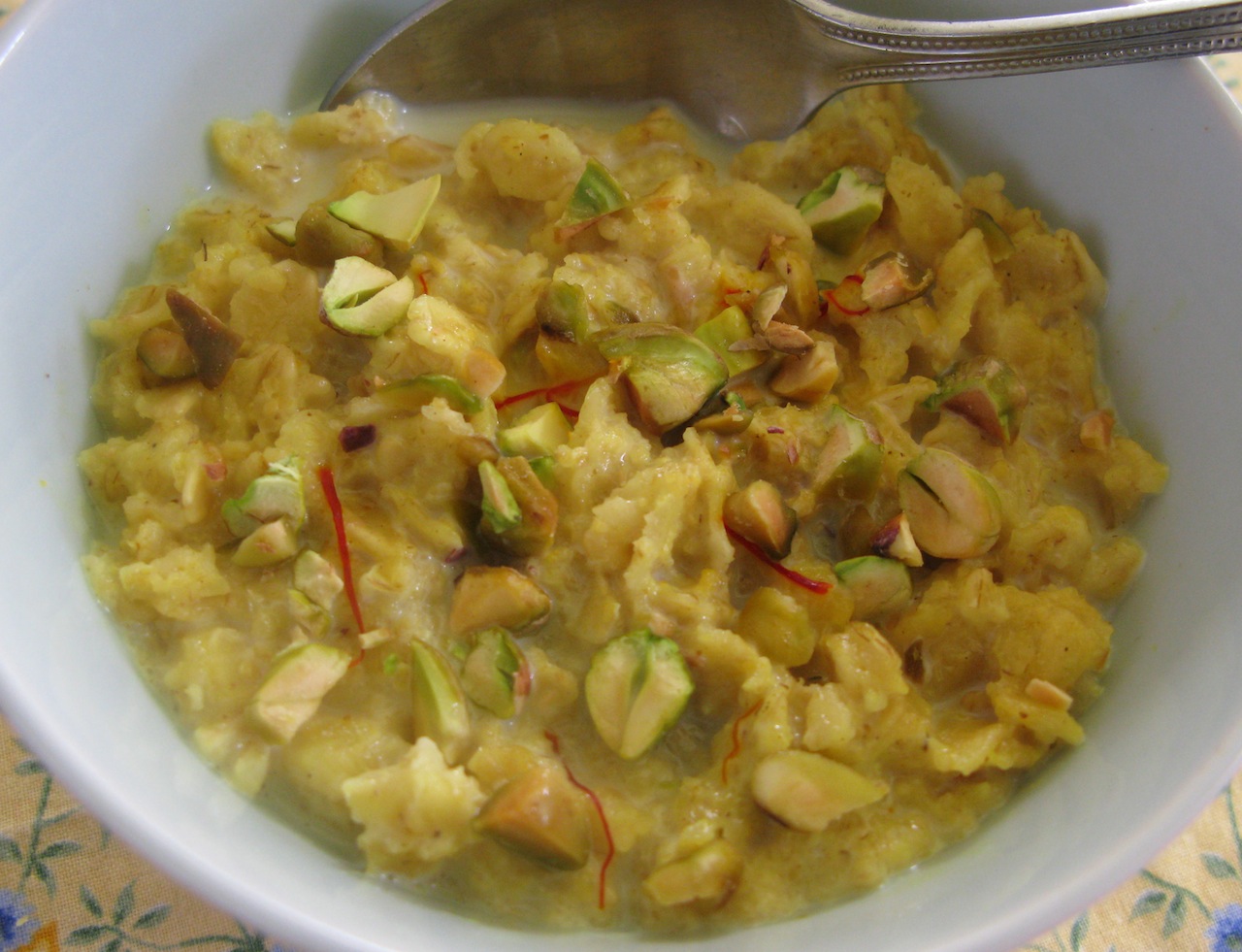 Holiday season breakfasts can be elegant and spirit-sustaining without requiring a big production. In this recipe, rolled oats are simmered in spice-infused milk, with inspiring results. Green pistachio nuts look beautiful on here, and additional accoutrements make it effortlessly festive. Total preparation time is about 10 minutes.
1 1/2 cups milk (low-fat or soy milk okay)
1/4 teaspoon salt
1/4 teaspoon cinnamon
1/4 teaspoon ground coriander
1/4 teaspoon powdered cardamom
1/4 teaspoon turmeric
A few threads of saffron (optional)
A few drops of vanilla (optional)
3/4 cup rolled oats
2 tablespoons oat bran
Honey or sugar to taste
Optional Toppings
Chopped pistachios
Chopped almonds
Cranberries (dried or minced fresh) (extra sugar for the latter)
Golden raisins
Warmed milk
Yogurt or buttermilk
Chopped apple
Chopped mango (frozen/defrosted just fine)
Additional oat bran
1) Pour the milk into a medium-sized saucepan. Add the dry seasonings plus the vanilla, if desired, and whisk to blend.

2) Place the pan over low heat, and stir as the milk warms.

3) When the milk becomes hot but is not yet boiling, sprinkle in the oats and oat bran, stirring once or twice. Cover the pan, and leave it over low heat for about 5 to 8 minutes, stirring occasionally, until thickened to your liking.

4) Serve hot, sweetened to taste and festooned with an assortment of toppings.