by Mollie Katzen
molliekatzen.com
Makes 4 dozen (possibly more)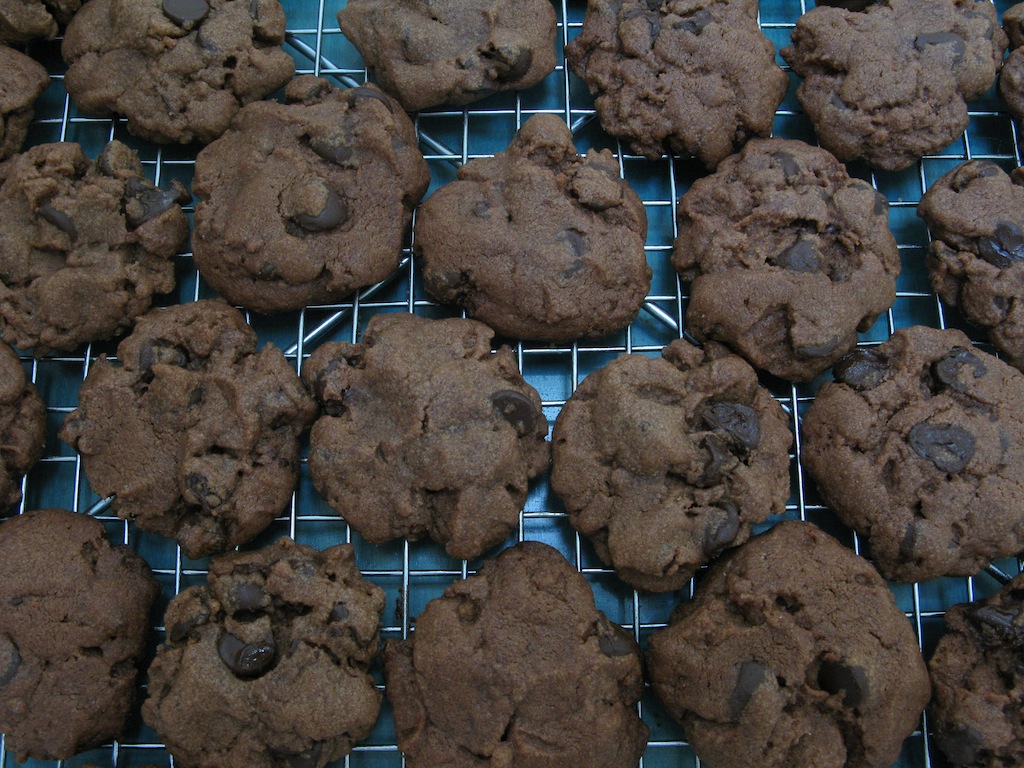 Chocolate and peppermint. dark and bright, crunchy and gooey: these holiday cookies both celebrate, and create, the holiday.
• This is the only recipe in which I have ever used peppermint extract. That one little bottle will keep until next year's (or next month's) (or next week's) batch, so the fun times can continue.
• Soften the butter directly in the bowl at least an hour ahead of time, for smoothest sailing.
Nonstick spray for the cookie sheets
3 sticks (1 12 cups) unsalted butter, softened in the bowl
1 cup (packed) light brown sugar
1 cup granulated sugar
1 large egg
2 teaspoons pure vanilla extract
2 teaspoons peppermint extract
3 cups unbleached all-purpose flour
1/2 cup unsweetened cocoa
1 1/2 teaspoons baking powder
1/2 teaspoon salt (scant measure)
2 cups semisweet chocolate chips (a 12-ounce package)
1) Adjust the oven rack to center position, and preheat the oven to 350°F. Lightly spray 2 cookie sheets with nonstick spray.

2) Crumble the brown sugar into the butter, and add the granulated sugar. Use a hand-held electric mixer at high speed (or use a strong whisk with a strong arm) to beat the butter and sugar together until uniform and fluffy (about 2 minutes).

3) Add the eggs, one at a time, beating well after each. (Use a rubber spatula to scrape the sides of the bowl a few times during this process.) Add the vanilla and peppermint extracts, and continue to beat for another minute or so until everything is well blended.

4) Combine the flour, cocoa, baking powder, and salt in a second bowl, and stir briefly to blend. Add this to the butter mixture, along with the chocolate chips, stirring until thoroughly distributed.

5) Drop the batter by rounded teaspoons onto the prepared trays, flattening each mound slightly with the back of a spoon.

6) Bake in the center of the oven for 10 to 12 minutes – or until dry on the tops and slightly darkened on the bottoms. Let the cookies sit on the trays for about 5 minutes before gently transferring to a rack (works best with a thin-bladed metal spatula). Repeat with the rest of the batter. (You'll need to bake these in shifts.)