by Mollie Katzen
molliekatzen.com
Good for Passover! No flour – and no Passover cake meal – in this moist, textured deliciousness, just ground chocolate, almonds, and coconut folded into beaten eggs. Spread the top with raspberry preserves for a bright touch (and more texture). This is a wonderful tea-time treat in addition to being a perfect dessert for Passover and beyond.
• Separate the eggs an hour or two ahead of time, placing the yolks in a smaller bowl and the whites in a larger one. Cover and allow to come to room temperature.
• A food processor is ideal for this, but you can also use a blender.
• This cake keeps well for up to three days, if stored airtight (large, round container with tight-fitting top or plastic wrap) in the refrigerator.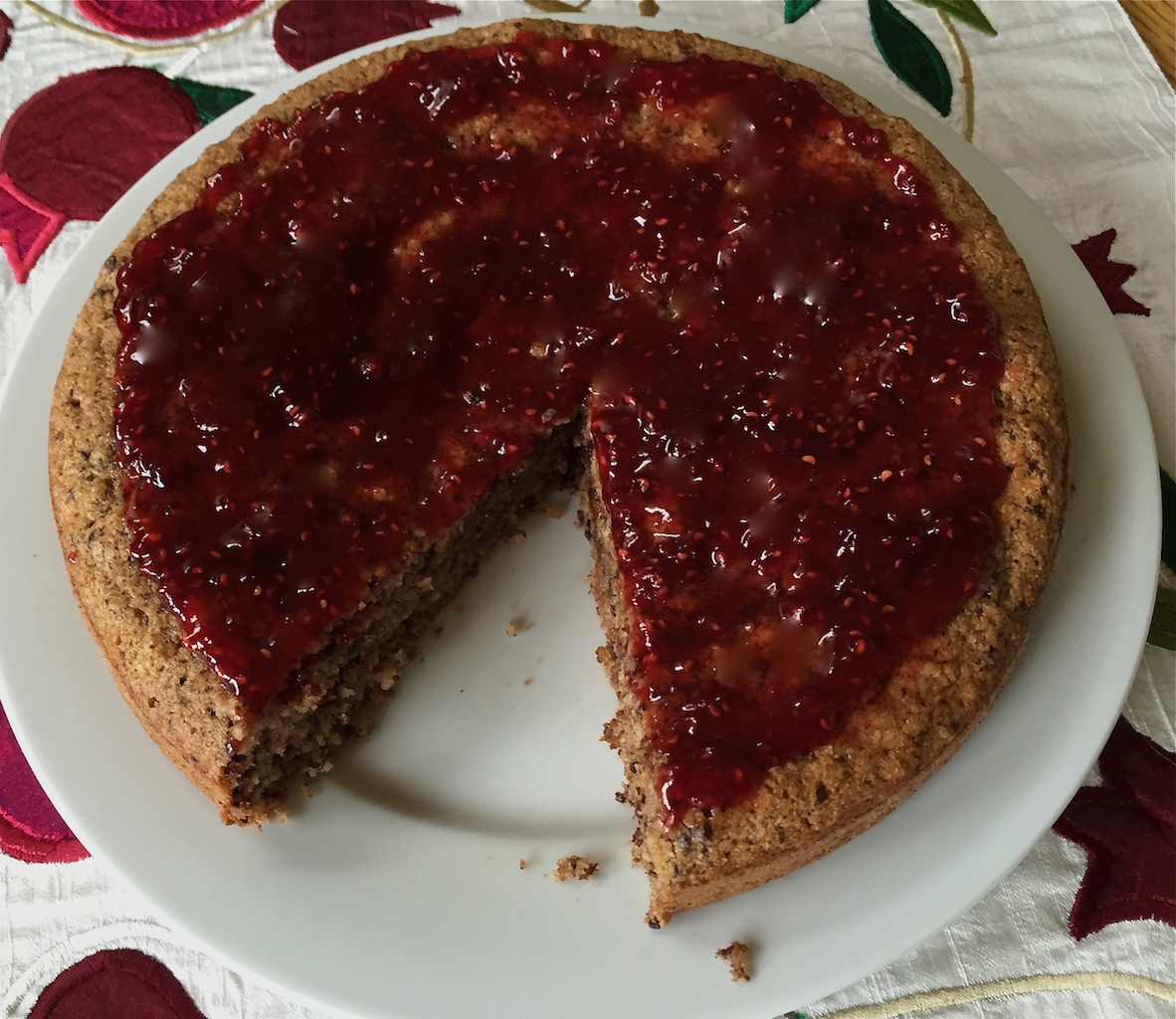 About 8 servings, possibly more
Adapted from a recipe in The Enchanted Broccoli Forest
6 large eggs
Nonstick vegetable spray for the pan
1 1/3 cups blanched almonds
1 cup semisweet chocolate chips
½ cup sugar
½ teaspoon grated orange zest
½ teaspoon salt
1 cup shredded unsweetened coconut
Up to ½ cup raspberry preserves
At least an hour ahead of time, separate the eggs, placing the whites in a large bowl and the yolks in a smaller one. Cover and let come to room temperature.
Lightly spray the bottom and sides of a 9-inch springform pan with nonstick vegetable spray. Preheat the oven to 350°F.
Place the almonds, sugar, and chocolate in the work bowl of a food processor, and process until it becomes a coarse meal (a little rougher than polenta).
Add the orange zest, salt, and coconut, and process until worked through – another minute or two.
Use a hand-held electric mixer to beat the egg whites until they form soft peaks. Without cleaning the beaters, beat the yolks for about 2 minutes, until they become smooth and a little puffy, and acquire a lighter yellow, lemony color.
Scrape the beaten yolks onto the top of the whites, and begin folding them in, using a rubber spatula and a turning motion, cutting through and lifting puffy whites from the bottom and gently combining.
When about half combined, sprinkle the dry mixture over the top and keep folding (same cutting, lifting, turning action so as to minimally deflate the eggs) until it is mostly uniform. It doesn't need to be perfect.
Turn into the prepared pan, and bake in the center of the oven for 20 minutes, or until it is lightly golden and mounded in the center, and springs back slightly to the touch.
Remove and cool on a rack (still in the pan) to room temperature, then remove the rim, and place on a lovely plate. Spread the top with raspberry preserves, and serve. If you are making this in advance, hold off on the preserves until shortly before serving. Tightly wrap the cooled cake in plastic wrap and refrigerate until topping and serving.