by Mollie Katzen
molliekatzen.com
3-4 servings, depending on context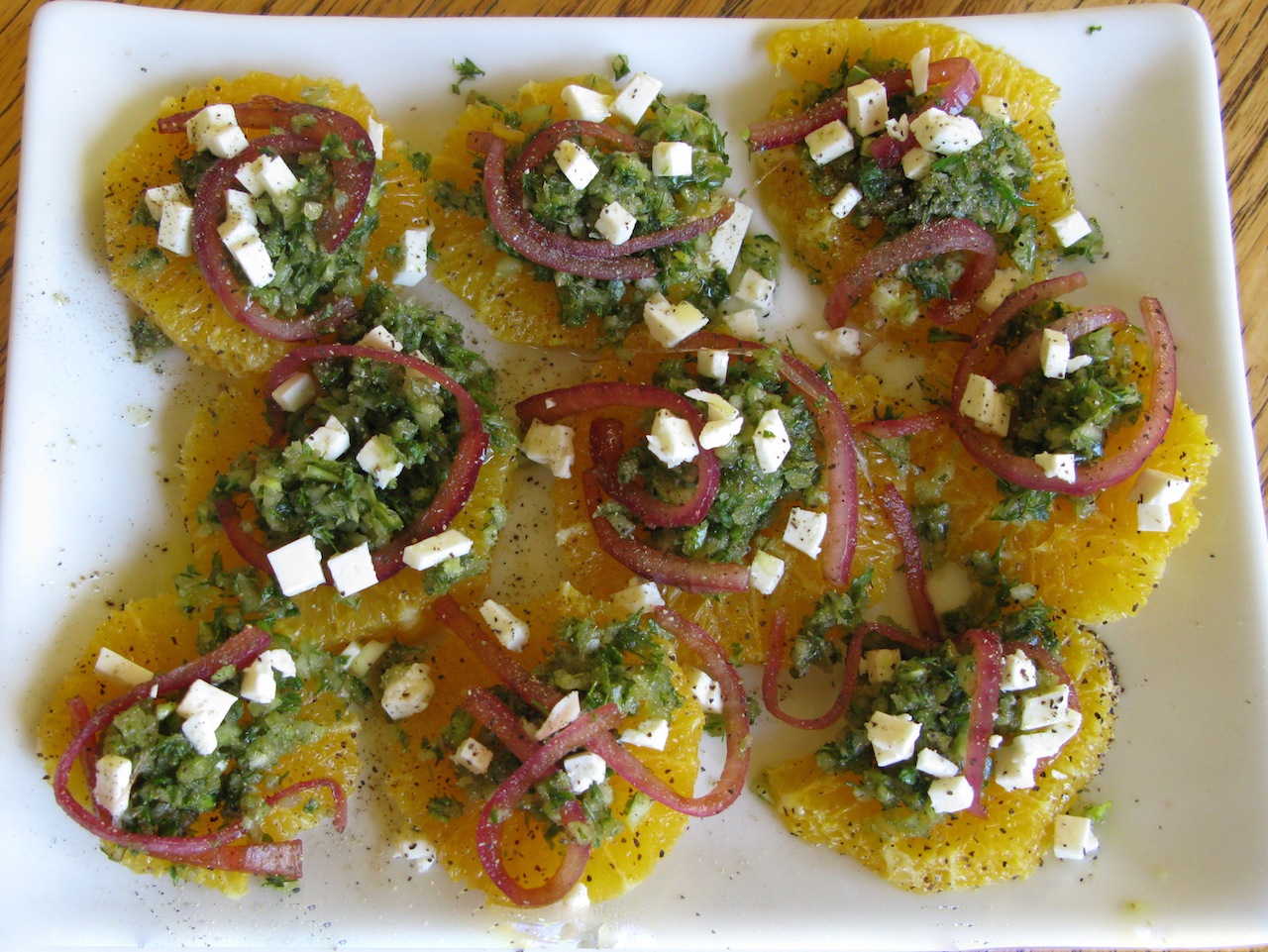 In this fun reversal of a traditional shaved fennel salad with touches of orange, this is an orange salad with touches of fennel. Dots of salty cheese and strips of bright pink pickled onion round it out for a perfect light lunch entrée or dinner appetizer. This dish gives off a lot of tasty juice, so be sure to serve it with some crusty bread for mopping it all up.
• You can pickle the onions (steps 1-3) immediately beforehand - and as much as a few days ahead. Store in the refrigerator if making them more than an hour in advance. You'll likely have some left over after making this recipe. They keep a long time, and are good on just about anything savory.
• The fennel mixture and orange slices can also be prepared up to a day in advance and refrigerated. Assemble the salad platter shortly before serving.
• Choose a fennel bulb that is tight and smooth and ranges from white to light green, with no brown areas.
• Any kind of orange will work.
1 medium red onion, thinly sliced
2 tablespoons cider vinegar
4 teaspoons sugar, honey, or agave nectar
¾ teaspoon salt
1 small fennel bulb (about ¾ pound)
2 tablespoons extra-virgin olive oil
Juice from a small lemon
3 or 4 oranges
About 6 ounces feta or ricotta salata, in tiny dice
Black pepper to taste
Put on a kettle of water to boil. Place the sliced onion in a colander in the sink.
While waiting for the water to boil, combine the vinegar with the sweetener and ½ teaspoon of the salt in a bowl large enough to fit the onion. Whisk to blend.
Pour the boiling water over the onion in the colander, shake to mostly drain, then add the onion to the vinegar mixture and stir to coat. Let it sit, stirring occasionally, while you prepare the rest of the recipe. (It can also be refrigerated for several days; see note above.)
Trim and discard the bottom 1/8 inch or so of the fennel bulb, then finely mince the rest, including the fronds. Transfer to a bowl, toss with the olive oil, lemon juice, and remaining ¼ teaspoon salt. Set aside.
With a serrated knife and a slicing motion, remove the peel from oranges, then slice the peeled oranges into thin rounds. Transfer the slices (plus as much of their juices as reasonable) to a platter and arrange in a single layer. (Pick out the seeds if/as necessary.)
Divide the fennel mixture among the orange slices, spooning a little pile on each slice. Scatter on some onions (you probably won't neeed to use them all), decorate with the diced cheese, and sprinkle with black pepper. Serve cold or cool.