>Arugula Salad with Oranges and Orange Vinaigrette
---
Adapted from Vegetable Heaven
Preparation time: 10 minutes
Yield: 4 to 5 servings
Arugula is very peppery and intensely flavored, so when used in a salad, it's best when combined with softer, milder greens, like butter lettuce. The Orange Vinaigrette is quite tart, and gives this salad a provocative edge.
As with all fresh green salads, make sure the greens are clean, dry, and cold, and add the dressing right before serving.
1 medium-sized head butter (aka "Boston") lettuce, cleaned and spun dry
1 small bunch arugula, coarsely chopped (about 3 cups)
10 radishes, thinly sliced
3 tablespoons minced chives (or 1 scallion, finely minced)
Orange Vinaigrette (recipe follows)
Freshly ground black pepper
Fresh sections from 2 to 3 oranges
Niçoise olives (optional)
Break the lettuce leaves into bite-sized pieces and place in a medium-large bowl. Add the arugula, radishes, and chives, and toss until well combined.
Shake the jar of dressing, then drizzle about 1/4 cup of the dressing into the salad. Grind in some black pepper, and toss well from the bottom, so that everything gets evenly coated. Drizzle in small amounts of additional dressing, as needed, tossing after each addition until the salad is as dressed as you like it.
Serve immediately, garnished with fresh orange sections and Niçoise olives, if desired.
Orange Vinaigrette
---
Preparation time: 10 minutes
Yield: About 1 1/2 cups
Grate the zest before squeezing the juice to avoid a 5-minute bad mood.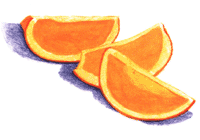 1/2 cup extra virgin olive oil
2 teaspoons grated orange zest
1/2 cup orange juice
4 tablespoons red wine or sherry vinegar
2 medium cloves garlic, finely minced
2 tablespoons finely minced fresh parsley
1 teaspoon salt