Asparagus Crepes with Spiked Mushroom Sauce
---
Adapted from Moosewood Cookbook
Preparation time: about 30 minutes
Yield: 4 to 5 servings (about 2 crepes apiece)

1 large egg
1 1/4 cups milk
1 cup unbleached white flour
1/4 teaspoon salt
A little melted butter for the pan
1 1/2 to 2 pounds slender asparagus, trimmed and steamed until tender
Spiked Mushroom Sauce (recipe follows)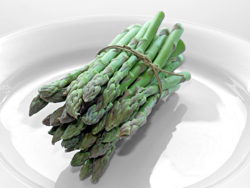 Place the egg, milk, flour, and salt in a blender and whip until smooth.
Heat a 6- or 7-inch nonstick crepe or omelette pan. When it is warm, brush it lightly with melted butter. Wait another 30 seconds or so until the pan is quite hot.
When the pan is hot enough to sizzle a drop of water upon contact, pour in 1/4 cup of the batter. Lift the pan, and tilt it in all directions until the batter thoroughly coats the bottom. Pour off any excess batter. (The pancake should be thin.)
Cook on one side until set (about 20 seconds), then turn it over and cook for just another second or two on the other side.
Turn the crepe out onto a clean dry dinner plate and repeat the procedure until you have used up all the batter. (If you keep the pan hot, you won't need to add much--if any--additional butter.) You can pile the finished crepes on the plate; they won't stick together.
To fill, place 3 or 4 stalks of cooked asparagus on one side of each crepe, and roll or fold the other side over. Serve warm or at room temperature, with hot Spiked Mushroom Sauce spooned over the top.
Spiked Mushroom Sauce
---
Adapted from Enchanted Broccoli Forest
Preparation time: 30 minutes
Yield: About 2 1/2 cups
3 tablespoons butter
1 pound domestic mushrooms, thinly sliced
6 medium-sized shiitake mushrooms, stemmed and thinly sliced (optional)
1/2 teaspoon salt (possibly more, to taste)
3 tablespoons brandy or dry sherry
3 tablespoons unbleached white flour
1 1/2 cups warmed milk
Freshly ground black pepper
Melt the butter in a medium-sized skillet. Add all the mushrooms and the salt, and cook over medium heat for about 10 minutes, stirring occasionally.
Add the brandy or sherry, and cook for 5 minutes more.
Gradually sprinkle in the flour as you whisk the mushroom mixture. Whisk and cook for another 5 minutes over medium heat.
Stir in the warmed milk. Cook over low heat, stirring often, until thickened and smooth (about 5 more minutes). Season to taste with black pepper and additional salt, if desired. Serve hot.