Avocado & Grapefruit Salad with Grapefruit Vinaigrette
---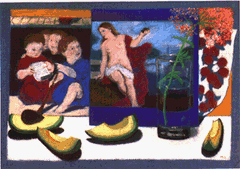 Adapted from
Still Life with Menu
Preparation time: 30 minutes
Yield: 6 servings
The grapefruit sections, vinaigrette, and greens can all be prepared up to several days in advance. (If you prepare the greens in advance, store them wrapped in paper towels and sealed in a plastic bag. They will stay fresh if kept very dry.) The salad must be assembled at the last possible minute in order for the greens to stay crisp and the avocado to stay green.
3 pink grapefruits
1 heaping teaspoon grated fresh ginger or minced sushi ginger
2 tablespoons walnut oil
1 to 2 tablespoons extra virgin olive oil
1 tablespoon fresh lemon juice
2 tablespoons red wine vinegar
1 tablespoon maple syrup or sugar
Salt to taste
1 pound mixed salad greens (watercress, Boston lettuce, and/or other soft lettuces), well cleaned, dried, and chilled
1 ripe avocado
Grate enough zest from one of the grapefruits to make 1/2 teaspoon. Put both the grapefruit and the zest aside
Use a sharp serrated knife to prepare the other two grapefruits. Cut off the ends and carve off all the skin, right down to the fruit itself. Hold the peeled grapefruit over a bowl, and slice along each membrane, releasing the sections of fruit one by one. Squeeze in all the remaining juice from the membrane.
Strain the grapefruit sections over a second bowl to collect the juice. Put the sections aside and measure the juice. You will need 1/2 cup for the vinaigrette. If there isn't enough, squeeze some more from the extra grapefruit.
Combine the grapefruit juice, ginger, walnut oil, olive oil, salt, lemon juice, vinegar, and sweetening, and mix well. Cover and chill until serving.
Just before serving, arrange the salad greens on indivudual serving plates.
Peel and pit the avocado, and cut it into about 12 slender slices. Place a couple of these on each plate. Add a few grapefruit sections (from Step 2) and drizzle on some vinaigrette. Serve immediately.