Roasted Beets and Carrots with Tart Grapefruit Glaze
---
This is a delicious way to dress up roasted vegetables with a huge hit of zingy flavor, and without adding any fat.
Here's the Idea: Roast carrots and beets until they are fork-tender. Serve them hot, warm, or at room temperature, coated with a generous drizzle of Tart Grapefruit Glaze.
Logistics:
The beets need to roast for about 1 hour, whereas the carrots only need about half that much time, or less. You can give the beets a head start on one tray, and then put the carrots into the oven on a second tray when the beets are about half-done. Check with a fork periodically to see if the vegetables are tender. This is an inexact science – you decide when they're ready.
Make the glaze when the vegetables come out of the oven. It only takes about 10 minutes.
Roasted Beets
---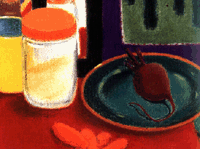 Allow about 3 beets per serving, depending on the size.
Preheat oven to 400ӼF.
Use small or medium-sized beets (1- to 2 inch-diameter). Trim the greens but leave on the stems. Place the beets in a small pan with a splash of water, and cover tightly with foil. Roast for 1 hour, or possibly longer. They're done when a fork slides in easily. Cool to room temperture, then rub off the skins, and cut into bite-sized pieces, if desired.
NOTE: If you are roasting red and yellow beets at the same time, keep them separate, so the yellow ones won't get irreparably stained.
Roasted Carrots
---
Allow about 1 medium-sized carrot (or a handful of small ones) per person.
Preheat oven to 400ºF. Brush a baking tray with olive oil.
Cut larger carrots into 2-inch lengths; leave small ones whole. Roll the carrots around on an oiled baking tray until they are lightly coated, then roast for 15 to 30 minutes (depending on the size and thickness of the carrots), or until done to your liking. Serve at any temperature.
Tart Grapefruit Glaze
---
Preparation time: 10 minutes
Yield: 1 generous cup glaze (enough for 4 to 6 servings of roasted vegetables)
1 cup grapefruit juice
1 tablespoon unseasoned rice vinegar
2 tablespoons plus 2 teaspoons real maple syrup
1 tablespoon cornstarch

Whisk together grapefruit juice, vinegar, and maple syrup.
Place the cornstarch in a small saucepan, and dizzle in the liquid, whisking until all the cornstarch is dissolved.
Place the pan over medium heat, and heat just to the boiling point, whisking frequently. Turn the heat down, and cook, stirring often, until thickened (3 to 5 minutes). Remove from heat.
Drizzle the hot glaze over hot, warm, or room-temperature roasted vegetables.