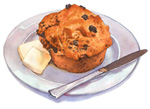 I've always thought of blueberry muffins as somewhat bland, lacking that elusive perkiness needed to awaken the palate. Believing strongly that breakfast food should wake you up and not put you back to sleep, I experimented with adding buttermilk (spunky and tart) and an enthusiastic dose of grated lemon zest to make the blueberries' flavor pop. It worked! You must try these.
The range of sugar allows you to make these sweeter or not, per your taste.
Remember to grate the lemon zest before squeezing the juice.
You can substitute soy protein powder for half the flour.
Canola oil can substitute for some or all of the butter.
Nonstick spray for the pan
2 1/2 cups unbleached all-purpose flour
3/4 teaspoon salt
1 1/2 teaspoons baking powder
1/4 teaspoon baking soda
1/2 to 2/3 cup sugar
1 tablespoon grated lemon zest
1 1/2 cups buttermilk
2 tablespoons fresh lemon juice
1 large egg
1 tablespoon vanilla extract
4 tablespoons (1/2 stick) unsalted butter, melted
1 1/2 cups blueberries (fresh or frozen)
Preheat the oven to 375°F. Lightly spray 10 standard-sized (2 1/2-inch-diameter) muffin cups with nonstick spray.
Combine the flour, salt, baking powder, baking soda, sugar, and lemon zest in a medium-sized bowl.
Measure 1 1/2 cups buttermilk into a 4-cup liquid measure. Add the lemon juice, egg, and vanilla, and beat gently with a fork or a small whisk until smooth.
Slowly pour this mixture, along with the melted butter, into the dry ingredients. Using a spoon or a rubber spatula, stir from the bottom of the bowl until the dry ingredients are all moistened. Carefully fold in the blueberries at the very end. Don't overmix; a few lumps are okay.
Spoon the batter into the prepared muffin cups. For smaller muffins, fill the cups about 4/5 of the way. For larger muffins, fill them even with the top of the pan. If you have extra batter, spray one or two additional muffin cups with nonstick spray and put in as much batter as you have.
Bake in the middle of the oven for to 20 to 25 minutes, or until lightly browned on top, and a toothpick inserted into the center comes out clean. Remove the pan from the oven, then remove the muffins from the pan and place them on a rack to cool. Wait at least 30 minutes before serving.