Cherry Pie with Almond Crust
---
Adapted from Enchanted Broccoli Forest
Preparation time: About 1 1/4 hours, after the cherries are pitted
Yield: 1 9-inch pie

Crust:
1 cup almonds, whole or slivered (blanched or with skins)
2 1/2 cups all-purpose unbleached flour (plus extra for working the dough)
1/4 teaspoon salt
3/4 cup (1 1/2 sticks)cold unsalted butter
About 1/3 cup cold water (possibly more)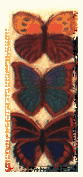 Put the almonds in the food processor and add 1/4 cup of the flour. Process in a series of long pulses until the almonds are ground to a fine powder. Add the rest of the flour and the salt, and buzz for a few seconds until combined.
Working quickly so it stays cold, cut the butter into slices and place them all around on top of the flour. (If the weather is very hot, cut the butter ahead of time, and put it back in the refrigerator until use.) Pulse on and off until the butter is evenly distributed and the mixture resembles a coarse meal.
Run the processor again, pouring in the water through the feed tube, and keeping the machine running just long enough for the dough to come together. (You may need a little extra water, but go easy so the dough won't be too wet.)
Sprinkle a clean work surface with extra flour, and turn out the dough onto the surface. Flour your hands, and swiftly and minimally push the dough into itself, until it holds together. (Don't over-handle the dough.) Divided the dough into two uneven pieces, approximately 2/3 and 1/3. If the weather is hot, wrap tightly in plastic wrap and refrigerate for one hour before rolling out. If the weather is moderate, roll the larger piece to fit a 9-inch pie pan, and place it in the pan. Roll the other piece into a circle, and use a pastry pizza cutter, a ravioli wheel, or a dinner knife to cut it into as many 1/2-inch strips as possible. Transfer the strips to a floured plate, and refrigerate everything for at least one hour, or until you are ready to finish the pie.
Filling:
6 cups pitted cherries (fresh or frozen-"not defrosted)
3/4 cup sugar (increase by a few tablespoons if using sour cherries)
1 tablespoon grated lemon zest
2 tablespoons fresh lemon juice
1/2 teaspoon almond extract
1/3 cup all-purpose unbleached flour
Preheat the oven to 375°.
Gently toss together all the ingredients in a large bowl. When the filling is uniformly combined, spoon it into the unbaked crust.
Decorate the top with the strips of dough in a lattice pattern (or just by laying the strips on top). Trim the strips as needed, being sure to press both ends of each strip firmly into the edge of the crust.
Place the pie pan on a baking tray, and place the tray in the lower half (but not the bottom) of the preheated oven. Bake for about 45 minutes, or until bubbly around the edges and lightly browned on top. Serve warm or at room temperature, with vanilla ice cream.