Chickpea and Sweet Potato Kofkas
---
Adapted from Mollie Katzen's Vegetable Heaven
Preparation time: 35 to 40 minutes
Yield: about 16 2 1/2-inch patties (4 main-dish servings; 6 appetizer servings)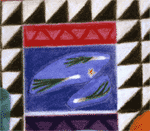 Koftas are little patties or balls made from ground or mashed vegetables. In traditional Indian cooking, they are usually deep-fried, and served in a creamy, savory sauce. In this recipe, the koftas are shaped into patties, similar to falafel, and sautéed or baked, instead of deep-fried. These delicious little koftas are also quite pretty–a deep shade of golden yellow, punctuated by nuggets of bright green peas. For a great lunch, serve them in pita, with minced tomatoes and Mediterranean Yogurt.
Note:If you are using frozen peas, you don't need to defrost them first.
1 medium-sized sweet potato or yam (3/4 pound)
1 1/2 to 2 cups cooked chickpeas (1 15-ounce can, rinsed and drained)
1 large clove garlic
2 scallions, cut into 1-inch pieces
2 teaspoons lightly toasted cumin seeds
1 tablespoon minced fresh ginger
1 teaspoon salt
2 tablespoons fresh lemon juice
Freshly ground black pepper to taste
6 tablespoons unbleached white flour
1 cup peas (fresh or frozen)
Vegetable oil for sautéing
Peel and dice the sweet potato or yam, and cook it in boiling water until soft (about 10 minutes, depending on the size of the pieces). Drain well. You should have about 1 1/2 cups of cooked sweet potato. Transfer to a food processor.


Add all other ingredients, except the flour, peas, and oil. Purée until fairly smooth. (The mixture might be very thick, depending on the sweet potato or yam, so be patient with this process.) Transfer to a bowl.


Stir in the flour until thoroughly incorporated, then gently stir in the peas. Form into large or small patties. To make them really uniform and professional looking, use a 1/4-cup-capacity ice cream scoop or a 1/4-cup measure to scoop up portions of the mixture, then pat each one down until it is about 1/2-inch thick and 2 1/2 inches in diameter.


Place a skillet over medium heat and add a little bit of oil. When the oil is really hot, add the patties, and sauté for about 8 to 10 minutes on each side, or until lightly browned and heated through. Serve hot, warm, or at room temperature.