Bittersweet Chocolate-Coated Coconut Macaroons
---
Adapted from
Mollie Katzen's Vegetable Heaven
Preparation time: About 45 minutes (15 minutes of work) -- less, if you omit the glaze.
Yield: 1 1/2 dozen small cookies (easily multiplied)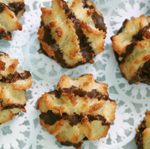 Chewy and light, these little puffs will keep for weeks if refrigerated in an airtight tin.

For a slightly richer taste, add the optional melted butter.

You will get slightly more volume if you use extra large eggs.
A little oil or melted butter for the baking tray
3 cups shredded unsweetened coconut
1/3 to 1/2 cup sugar (depending on your taste)
1/4 teaspoon salt
3 eggs
1 teaspoon vanilla extract
3 tablespoons melted butter (optional)
3/4 cup semisweet chocolate chips

Preheat the oven to 350°F. Lightly brush a baking tray with a little oil or melted butter. (You can also just line the tray with parchment paper, making the greasing unnecessary.)
Combine the coconut, sugar, and salt in a medium-sized bowl, and mix until well combined.
Place the eggs and vanilla in another medium-sized bowl, and beat at high speed with an electric mixer or a whisk for about 3 minutes, or until the eggs become a pale, creamy foam.
Add the eggs and the optional melted butter, if desired, to the coconut mixture, and combine thoroughly.
Drop by rounded teaspoons onto the prepared baking tray and bake on the center rack of the oven for 15 minutes, or until golden on the tops and edges.
Carefully remove the macaroons from the tray and transfer to a wire rack. Let the macaroons cool completely before proceeding.
Gently melt the chocolate in a double boiler over simmering or hot (not boiling) water. Be careful not to overheat the chocolate, so it will retain its shine. (Overheating chocolate turns it matte and dull.) Meanwhile, line a couple of dinner plates with wax paper.
Remove the chocolate from the heat. Carefully dip the top and/or side of each macaroon into the hot mixture, then place the dipped cookies on the paper-lined plates until the chocolate hardens. Work quickly enough so that the chocolate stays supple, but not so fast that you accidentally burn yourself. When the chocolate solidifies, store the macaroons in a cookie tin in the refrigerator.