Savory Corn Cakes
---

Adapted from
Vegetable Heaven
Preparation time: 20 minutes
Yield: About a dozen 4-inch corn cakes
You can whip up these little gems in just 20 minutes, any time of day or night. They can be a light supper in and of themselves, or a first course or side dish for a more complex meal.
* Frozen, defrosted corn works perfectly well in these pancakes.
2 teaspoons butter
1/4 cup finely minced red bell pepper
2 cups corn
1/4 cup minced scallions
1/2 cup cornmeal
1/2 cup unbleached white flour
1 teaspoon baking powder
1/2 teaspoon baking soda
1/2 teaspoon salt
2 eggs
1 cup buttermilk
Oil or butter for the pan

OPTIONAL TOPPINGS:
Cilantro leaves
Chipotle Cream (recipe follows)
Melt the butter in a small skillet. Add the bell pepper and corn, and sauté over medium heat for about 10 minutes. Remove from heat, stir in the scallions, and set aside.
Combine the cornmeal, flour, baking powder, baking soda, and salt in a medium-sized bowl. Make a well in the center.
Beat together the eggs and buttermilk until frothy. Pour this and the corn mixture from Step 1 into the well in the center of the dry ingredients, and stir briefly until everything is combined. (Don't overmix.)
Lightly grease a hot skillet or griddle with butter or oil, and fry the corn cakes for about 2 minutes on each side, or until golden. Serve hot, topped with a few cilantro leaves and a drizzle of room-temperature Chipotle Cream, if desired.
Chipotle Cream
---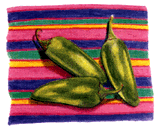 Chipotle chiles are smoked, dried jalapeños. They most commonly come in cans, packed in a vinegar preparation called adobo sauce. A little bit of canned chipotles-in-adobo goes a very long way, both in terms of its heat and its powerful smoky essence. In this sauce, sour cream and/or yogurt create a soothing, luxurious vehicle for the chipotle flavor.
* Serve this wherever it seems appropriate--on any egg dish, with beans, rice, cornmeal preparations, or drizzled onto soups.
1 cup sour cream or yogurt (or a combination)
1/2 to 1 teaspoon canned chipotle chiles, finely minced
Place the sour cream and/or yogurt in a small bowl and whisk until smooth.
Whisk in 1/2 teaspoon minced chipotles, and let it sit for about 10 minutes, so the flavor can develop. Taste to see if it needs more chipotle flavor, and add more, if desired.
Store in a tightly covered container in the refrigerator. Bring to room temperature before serving.