Eggplant-Almond Enchiladas
---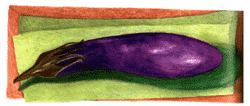 Adapted from:
Moosewood Cookbook
Preparation time: 45 minutes, plus 30 minutes to bake
Yield: 6 servings (2 enchiladas apiece)
You'll love these slightly-different enchiladas, with their deep flavor and wonderful textural contrasts. Serve them with beans and rice and a green salad on the side.
NOTE: Make the Mexican Red Sauce ahead of time.
1 tablespoon olive oil
1 cup minced onion
6 cups diced eggplant
1 teaspoon salt (possibly more, to taste)
Black pepper to taste
2 tablespoons minced garlic
1 medium-sized bell pepper (any color), minced
1 cup minced almonds, lightly toasted
1 packed cup grated jack cheese
12 corn tortillas
Mexican Red Sauce (recipe follows)
Heat the olive oil in a deep skillet or Dutch oven. Add onion, and sauté for about 5 minutes over medium heat.
Add eggplant, salt, and pepper, and mix well. Cover and cook for about 10 minutes over medium heat, stirring occasionally, until the eggplant is soft.
Add garlic and bell pepper. Stir and cook 5 minutes longer, or until the pepper is tender. Taste to correct salt.
Remove from heat; stir in almonds and cheese.
Preheat oven to 350°F. Moisten each tortilla briefly in water then place approximately 1/4 cup filling on one side and roll up. Gently place the filled enchiladas in a baking pan, and pour a full recipe of Mexican Red Sauce over the top. Bake uncovered for about 30 minutes, or until heated through. Serve hot, with beans, rice, and green salad.
Mexican Red Sauce
---
1 to 2 tablespoons olive oil
1 cup minced onion
1 Anaheim or poblano chili, minced
1/2 teaspoon salt (possibly more, to taste)
2 teaspoons ground cumin
1 tablespoon chili powder
3 tablespoons minced garlic
3 cups chopped tomatoes (canned OK)
1 cup water or tomato juice
Black pepper and cayenne to taste (optional)
Heat the olive oil in a medium-sized saucepan. Add the onion, chili, and salt, and sauté over medium heat for 5 minutes, or until the onion becomes transparent. Add cumin, chili powder and half the garlic, and sauté for about 3 minutes longer.
Add the tomatoes and water or juice. Bring to a boil, partially cover, and turn the heat down as low as possible. Simmer for 30 minutes, adding the remaining garlic, and optional black pepper and cayenne to taste during the last 5 minutes or so.
NOTE: You can leave the sauce in chunky form, or smooth it out by puréeing it in a blender. (I like to use a hand-held immersion blender for this. Be careful not to splash!)