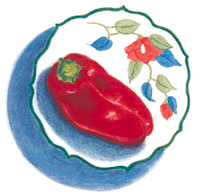 Bell peppers acquire a subtle, smoky flavor when broiled. You can also get a similar effect by charring directly on a gas burner or on a charcoal grill, cooked close to the coals. This recipe looks especially beautiful if you make it with an assortment of colored pepper! Serve this with any savory dish.
This keeps for up to a month in a tightly lidded jar in the refrigerator. It actually tastes best after it's had a chance to sit around for a while, so the flavors can develop and bond as a team.
Olive oil for the baking tray
2 pounds red, yellow, or orange bell peppers
1 1/2 teaspoons minced garlic
1/2 teaspoon salt (or to taste)
2 teaspoons cider vinegar
1 tablespoon fresh lemon or lime juice
Cayenne to taste

Optional additions
1/2 teaspoon sugar
1/2 teaspoon ground cumin
Preheat the broiler and lightly brush a baking tray with olive oil. Place the whole peppers on the tray.
Broil the peppers until they are blackened all over (15 minutes, turning every 5 minutes).
Transfer the peppers to a bowl, and cover the bowl with a plate. Let the peppers cool for at least 45 minutes, during which time they will give off a good amount of delicious juices. (Save all the juices! They will become part of the sauce.)
Peel the peppers, and remove and discard the seeds and stems. Mince the flesh, and return the minced peppers to the bowl. Stir in the remaining ingredients, and adjust the seasonings to taste. Store in a tightly lidded jar in the refrigerator.
Serve cold or at room temperature.
---
Make the preceding recipe. Just before serving, add:
Finely minced cucumber (peeled and seeded)
Ripe avocado, cut into tiny dice
Adjust the salt to taste. Serve within a few hours, for maximum quality.
NOTE: This will have a slightly higher yield.

---
Fire–Roasted Pepper Salsa is a wonderful condiment, but if you don't have the time or inclination to make the whole recipe, just roast and peel the peppers and store them, coated in olive oil, in a tightly covered container in the refrigerator. They will keep for a week or longer, and can be used for many things. (Don't forget to save the juices--they make the world's most brilliant soup stock!)