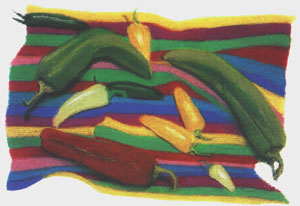 A relatively long cooking process over strong heat–plus the addition of just a few choice seasonings–will transform green chiles and tortilla strips into an intense backdrop for scrambled eggs. My favorite garnish for this is a scattering of variously colored cherry tomatoes, which make it look every bit as compelling as it smells.
Different chile powders have quite a range of flavor and heat. I use a very strong New Mexico chile powder; therefore I add only a little. You can adjust the amount of the chile powder to taste, depending on the type you are using.


By "minced green chiles" I mean any combination of anaheims, poblanos, and jalapeños--all of which have a range of heat. For a milder flavor, remove and discard the seeds. (Wash your hands after handling these or any other hot peppers.) You can also substitute canned green chiles.

2 corn tortillas
1 1/2 tablespoons olive oil
1 heaping cup minced onion
1 cup minced green chiles
1/2 teaspoon pure ground chile powder
1/4 teaspoon salt
2 teaspoons minced garlic
1 cup cooked pinto beans (optional)
6 large eggs

Optional Toppings
Cherry tomatoes (cut in half, unless tiny)
Grated jack cheese
Sour cream
Guacamole
Salsa (any kind)

Cut the tortillas into small, thin strips about 1/2 inch wide with a knife or scissors, and set aside.
Place a 10-inch skillet or sauté pan over medium heat. After several minutes, add 1 tablespoon of the olive oil, wait about 10 seconds, then swirl to coat the pan. Turn the heat up to medium-high, add the onions, and sauté for 5 minutes.
Stir in the chiles, chile powder, and salt, and sauté for another 5 minutes, keeping the heat at medium-high.
Add a little more olive oil (about 1 1/2 teaspoons), plus the garlic and tortilla strips. Cook and stir over medium-high heat for another 10 minutes, or until the vegetables are very tender and the tortillas turn a deep golden brown. Gently stir in the beans, if desired. Keep the pan hot.
Break the eggs into a bowl and beat until smooth. Pour them into the hot pan, and scramble them into the vegetable-tortilla mixture. This will go quite quickly. Remove the pan from the heat when the eggs are mostly set but still moist. (They will continue cooking from their own heat, and we want to prevent them from becoming dry.)
Serve hot, topped with cherry tomatoes, a light sprinkling of grated cheese, if desired, and/or additional toppings of your choice.