Fried Green Tomato Pillows
---
Adapted from
Vegetable Heaven
Preparation time: 20 to 30 minutes
Yield: 4 to 6 servings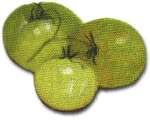 --To use up those tomatoes that are just not going to make it!
Traditional fried green tomatoes are very light, and are usually served as a side dish or a snack. These cornmeal batter-coated puffs are a variation substantial enough to qualify as a light brunch or supper entree. Serve them with any one of several toppings alongside some cooked greens or a tossed salad, and everyone will be happy for hours.
* You can make the batter up to several days ahead and store it in an airtight container in the refrigerator. If necessary, thin it with a little extra milk before coating the tomatoes.
* If you can't get bona fide green tomatoes, just use the least-ripe ones you can find. For those of you who grow your own, this won't be a problem.
1 cup unbleached white flour
1 cup cornmeal
2 teaspoons baking powder
3/4 teaspoon salt
1/8 teaspoon cayenne
1 cup milk
2 eggs
2 large unripe tomatoes (about 1 pound)
A little olive oil or butter for sauté (about 1 tablespoon)
Sour cream or yogurt, for the topping
Combine the flour, cornmeal, baking powder, salt, and cayenne in a medium-sized bowl and stir until well combined. Make a well in the center.
In a separate bowl, beat together the milk and eggs until frothy, and pour this into the well in the center of the flour/cornmeal mixture. Stir until thoroughly combined, but don't overmix.
Core the tomatoes and cut them into 1/2-inch-thick rounds. (Meanwhile begin heating a little oil or melting a little butter in a skillet over medium heat.)
Add the tomato slices to the batter one by one, pushing them around gently with a spoon until they are well coated. Lift them from the batter with the spoon, and add them to the hot skillet. (You might need to spoon a little extra batter on top of each tomato, so no bald spots are peeking through.) Fry on both sides until crispy and golden, and serve hot, topped with sour cream or yogurt.
TO PEEL AND SEED TOMATOES:
Bring a medium-sized saucepan of water to a boil, then lower the heat to a simmer.
Core the tomatoes and drop them into the water for a slow count of 20. (Or just count to 10 if they are quite ripe.)
Retrieve them and peel off and discard the skins. Cut them open and squeeze out and discard the seeds.