Millet and Vegetable Pilaf with Almond-Orange Sauce
---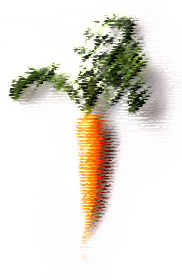 Sautéing the millet before simmering gives it a nuttier, more interesting flavor. The light coating of oil or butter keeps each grain distinct, yielding a fluffy result. The vegetables are added at different times to accommodate their varying cooking requirements, Attention to such details rewards you with a perfectly textured pilaf.
The quantities of vegetables in this recipe are approximate, so don't panic and run to the store if you don't have these exact amounts.
NOTE: Make the sauce while the pilaf cooks.
2 tablespoons canola or almond oil, or butter
3 medium leeks, or 2 medium-sized onions, chopped
1/2 pound mushrooms, coarsely chopped
1 teaspoon salt
2 cups millet
1 tablespoon minced garlic
2 cups boiling water
1 large carrot, diced
1/2 pound green beans, trimmed and cut into 1 1/2-inch pieces
1 cup minced almonds, lightly toasted
Almond-Orange Sauce (recipe follows)

Heat the oil or melt the butter in a large, deep skillet or Dutch oven over medium heat.
Add the leeks or onions and mushrooms, and sautÚ for about 5 minutes, or until the leeks or onions are very soft.
Add salt, millet, and garlic, and stir until the millet is coated with the juices from the leeks/onions and mushrooms. Cook and stir for about 3 minutes.
Add the boiling water, cover, and turn the heat down to a simmer. Leave it for 5 minutes.
Add the carrots and green beans. (Don't mix them in"simply lay them on top.) Cover again, and continue to simmer for another 10 minutes. (Make the Almond-Orange Sauce during this time.)
Remove the pilaf from the heat, uncover, and fluff the millet with a fork, mixing in the carrots and green beans at the same time. Serve hot, topped with warm or room temperature Almond-Orange Sauce and a sprinkling of minced, toasted almonds.
ALMOND-ORANGE SAUCE
---
Adapted from:
Still Life with Menu
Preparation time: 10 minutes
Yield: About 2 cups
Orange, almond, and ginger delicately mingle in this sauce. It's good enough to eat with a spoon all by itself, but it's especially good on millet pilaf. (Also try it on grilled tofu! Dee-licious!)
If you can't find almond butter in the store, make some by grinding toasted or raw almonds to a paste in a blender.
NOTE: Grate the orange zest before squeezing the orange.
1 cup almond butter
1/3 cup boiling water
2/3 cup orange juice (fresh, if possible)
1 tablespoon soy sauce
1 tablespoon minced fresh ginger
2 teaspoons minced fresh garlic
1 tablespoon grated orange zest
Salt to taste, if desired

Place the almond butter in a medium-small bowl.
Add boiling water, and carefully mash with a spoon until the mixture is uniform.
Add the remaining ingredients and mix well. Taste to decide if it needs salt.
Serve warm or at room temperature over hot pilaf.