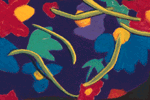 Serve this quick and simple stir–fry for dinner on a warm night when you don't want to spend too much time at the stove. You can cook the vermicelli at the same time as the green beans, if you start the water boiling in advance, and put the pasta in before you heat the wok. You can also do the vermicelli well in advance, and store it in water in the refrigerator. Drain and dry thoroughly before adding to the wok.
If you seed the chile first, it will be milder.
2 teaspoons Chinese sesame oil
1 pound green beans, cut into 2-inch pieces
1/2 teaspoon salt
2 tablespoons minced garlic
1 3-inch jalapeno chile, thinly sliced (seeding optional)
1/2 pound vermicelli, cooked and drained

Place a medium-sized nonstick wok over high heat. After about 30 seconds--or when the pan is good and hot--add the oil and the beans. Stir-fry for about 3 minutes over strong heat, then sprinkle in the salt. Stir-fry for about 5 more minutes (depends on the thickness of the beans).
Stir in the garlic and minced chile, and stir-fry for about 2 to 3 minutes longer.
Add the noodles, and toss with tongs or a long-handled fork until combined and heated through. Serve hot or warm.