Potato Soup with Rosemary and Roasted Garlic
---
Adapted from
Vegetable Heaven
Preparation time: 50 minutes (20 minutes of work)
Yield: 6 to 8 servings (possibly even more)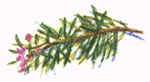 Roasted garlic is a mild, rich presence in this low-key, creamy soup. It is used in combination with fresh garlic, which is cooked directly into the stock, creating a deep, complex flavor. This soup contains a surprise ingredient: silken tofu, a seamlessly smooth variety that comes vacuum-packed in little cardboard boxes in most grocery stores. It gives the soup an incredible creaminess – better, in this case, than cream itself. Really!
4 bulbs garlic
1 1/2 pounds russet potatoes (about 4 medium-sized), peeled and cut into medium-sized chunks
8 additional large cloves garlic, peeled
6 cups water
2 1/2 cups chopped onion
1 large carrot, peeled and cut into large chunks
2 teaspoons salt (or to taste)
A few sprigs fresh rosemary (or a teaball with about 2 teaspoons dried)
1 10-ounce box soft silken tofu
White pepper to taste
Additional sprigs rosemary for garnish (optional)
Preheat oven to 375º Line a small pie pan with foil. Trim the very tips of the garlic bulbs, then stand them on their bases directly on the foil. Roast until the garlic feels soft when gently squeezed (about 30 minutes, but maybe longer, depending upon the size and density of the bulbs). Remove from the oven and set aside to cool.
Meanwhile, place the potatoes in a large saucepan or Dutch oven with the 8 additional cloves of peeled garlic, water, onion, carrot, salt, and rosemary. Bring to a boil, then cover and simmer until the potatoes are very soft (about 20 to 30 minutes.) Remove from heat; fish out and discard the rosemary.
Back to the roasted garlic: When the bulbs are cool enough to handle, break them apart with your hands, and literally squeeze the pulp from each clove into a small bowl. (This task will be a little sticky.)
Measure out 2 tablespoons of the roasted garlic, and stir this into the soup, along with the silken tofu, mashed slightly or broken up into pieces. Then transfer the soup--in several batches--to a blender or food processor, and puré each batch until very smooth. Return the purée to another pot, and stir well.
Heat the soup gently; adjust salt, and add white pepper to taste. Serve hot, garnished with a sprig or two of fresh rosemary, if available.
CONVENIENCE NOTES:
Use russet potatoes, rather than creamier ones, like yellow Finn or Yukon gold. The former will whip up more cleanly, and the latter will become too gluey in the blender or food processor.
Save time by roasting the garlic while the potatoes cook.
You'll probably end up with more than enough roasted garlic paste. Use any extra for spreading on toast or baked potatoes, or any other creative application you can think of.
This soup keeps well for about 5 days if stored in a tightly covered container and refrigerated. It reheats just fine.