Spoon Bread
---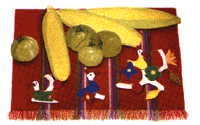 Adapted from
Mollie Katzen's Vegetable Heaven
Preparation time: 40 minutes (10 minutes of work)
Yield: 4 main-dish servings (6 side-dish servings)
With its origins in the Deep South of the United States, Spoon Bread is a soft, custardy corn bread that can literally be eaten with a spoon. Some recipes call for separating the eggs, beating the whites until stiff, and then folding everything together, much as you would a souffle. This quick version skips all those steps, but the results are just as light.
* Serve Spoon Bread plain or with a spoonful of Summer Fruit Salsa on the side.
Oil, butter, or oil spray for the pan
3 cups milk (lowfat OK)
1 cup white or yellow cornmeal
1 teaspoon salt (a little less if adding cheese)
1/4 teaspoon black pepper
1 cup minced scallions (about 1 bunch)
Red pepper flakes to taste (optional)
4 eggs
1/3 cup grated cheese, sharp or mild (parmesan, cheddar, or jack), optional
Preheat oven to 400°F. Lightly grease or generously spray an 8 X 8-inch baking pan.
Pour the milk into a medium-sized saucepan, and place it over medium heat until it just reaches the boiling point. Turn the heat down, and whisk constantly as you sprinkle in the cornmeal. Cook, whisking, for 5 minutes over low heat, stirring constantly. Remove from heat, and stir in the salt, black pepper, scallions, and red pepper flakes, if desired.
Beat the eggs well, and stir them into the cornmeal mixture, along with the optional cheese (or not). Mix well, then transfer the batter to the prepared pan.
Bake for 30 minutes, or until firm in the center. Cut into squares, and serve hot or warm.