Spring Vegetable Salad
---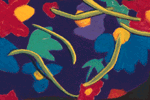 Adapted from
Still Life with Menu Cookbook
/a>
Preparation time: about 45 minutes, plus time to chill.
Yield: 5 or 6 servings.
The ideal vegetables for this salad are the most angelic: miniature squash, baby carrots, slender green beans, flat snow peas, pencil-thin asparagus, etc. So use the loveliest vegetables you can find. Also, feel free to make substitutions as necessary. This is a very flexible recipe.
The salad can be assembled a day in advance. Just hold off on adding the lemon juice until shortly before serving. (If the vegetables sit too long in an acidic substance, their colors will fade.)
1/4 pound baby carrots
1/2 pound fresh green beans, as slender as possible
1/2 pound snow peas
8 to 10 very small red potatoes
1 small head cauliflower
1 or 2 small yellow summer squash
1/ 2 pound asparagus, pencil thin, if possible
2 to 3 medium cloves garlic, minced
1/ 4 cup extra virgin olive oil
1 teaspoon salt
black pepper to taste
4 to 5 tablespoons mayonnaise (optional)
Minced fresh basil, tarragon, marjoram, dill, and/or chives
1/2 cup fresh lemon juice
Prepare the vegetables: Trim both ends of the carrots, green beans, and snow peas. If desired, cut them in half. Or leave them whole. Halve the potatoes, separate the cauliflower into 1-inch pieces, and slice the squash. Snap off and discard the coarse lower ends of the asparagus. Cut off the tips, and slice the middle parts into 1 1/2-inch pieces.
Steam the potatoes until just tender, about 10 to 15 minutes. While potatoes are cooking, place the garlic and olive oil in a large bowl. When the potatoes are done, transfer them – still hot – to the bowlful of garlic and oil.
Steam the carrots, cauliflower, and green beans together until just tender, for about 8 to 10 minutes. Refresh under cold water, drain well and transfer to the bowl.
Steam together the asparagus, snow peas, and squash until just al dente. (This will take less than 5 minutes.) Add to the rest of the vegetables, and mix gently.
Add remaining ingredients, except for the lemon juice, and stir again. Cover tightly and chill until very cold.
Stir in the lemon juice within about 15 minutes of serving time.