Strawberry-Buttermilk Soup
---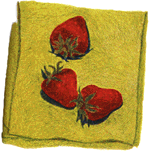 Adapted from Mollie Katzen's Sunlight Café
Preparation time: 20 minutes
Yield: 2 servings (easily multiplied)

We normally expect a fruit dish to be sweet, but this one is a refreshing surprise! A delightful tart and tangy flavor takes center stage, and the sweet touches are merely accents. It's unusual. Serve this as an appetizer, a snack, a breakfast dish, or even for dessert.
1/2 cup fresh strawberries, wiped clean, hulled, and sliced
2 teaspoons sugar
3/4 cup cold buttermilk

Divide the berries between 2 serving bowls. Sprinkle each bowlful of berries with 1 teaspoon sugar, and let the strawberries just sit there and macerate in the sugar for about 15 minutes.
Divide the buttermilk among the bowls, pouring it over the strawberries.
Stir gently and either serve right away or cover tightly and refrigerate for up to a day, then serve cold.