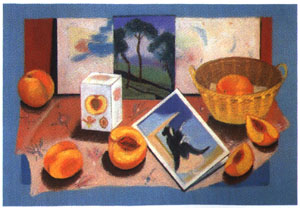 Peaches and creamy cheese are delightful together in this rich-tasting soufflé. If you don't have access to ripe, fresh peaches, make this with the equivalent amount of drained canned peaches (packed in water or juice); it will still be absolutely delicious.
Separate the eggs well ahead of time, placing the whites in a large bowl and the yolks in a smaller one. Cover both bowls with plastic wrap, and let them come to room temperature.


Zest the lemons before juicing them.

Nonstick spray
2 cups ricotta or cottage cheese
6 large eggs, separated and at room temperature
2 teaspoons vanilla extract
1/8 teaspoon almond extract
6 tablespoons unbleached all-purpose flour
1/2 teaspoon salt
1/4 cup sugar
1 tablespoon grated lemon zest
2 medium-sized ripe peaches, peeled and sliced
2 teaspoons fresh lemon juice

Preheat the oven to 375°F. Lightly spray a 1 1/2-quart soufflé dish with nonstick spray.
Place the ricotta in a large bowl and add the egg yolks, extracts, flour, salt, sugar, and lemon zest. Whisk together until fluffy and smooth. (If using cottage cheese, do all of this in a food processor fitted with the steel blade, whipping the cottage cheese for a minute or so by itself first to smooth the curds.)
Beat the egg whites until they form peaks that don't fall over when the whisk or beaters are lifted and just a little liquid is left in the bottom of the bowl.
Fold the beaten whites into the cheese mixture until they are mostly incorporated. The mixture will not be uniform–there will be little puffs of "cloud" here and there--and that is fine. (It's best not to "overfold," as this will deflate the egg whites.) Transfer the mixture to the prepared dish.
Toss together the peach slices and the lemon juice, then arrange the peaches in a design on top of the soufflé.
Bake in the center of the oven for 45 minutes, or until the soufflé seems solid when you gently shake the dish. Bring to the table and serve immediately.