Swiss Green Beans
---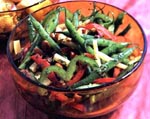 Adapted from
The Enchanted Broccoli Forest
Preparation time: 30 minutes, plus at least 2 hours to marinate
Yield: 4 to 6 servings
If you make this lovely main-dish salad a day ahead and let it marinate overnight, it will be most delicious. Leave out the lemon juice and vinegar until shortly before serving, so the green beans can retain their color. (The acid will cause the green color to fade.)
1 1/2 pounds fresh whole green beans (slender as possible), cleaned and trimmed
2 large cloves garlic, minced
1/4 cup extra-virgin olive oil
1 teaspoon dried tarragon
1 tablespoon minced fresh dill
1/2 teaspoon salt (or more, to taste)
Freshly ground black pepper to taste
2 teaspoons Dijon mustard
1/2 cup minced fresh parsley
1/3 pound gruyere cheese, in thin strips
1/2 cup chopped ripe olives (or whole tine ones, like Niçoise)
1 small yellow bell pepper, sliced thin
1 small red bell pepper, sliced thin
3 to 4 tablespoons fresh lemon juice (to taste)
1 tablespoon red wine vinegar
1/2 cup chopped, toasted almonds (optional)

Steam the green beans until just tender. Remove from heat and immediately rinse under very cold running water. Drain completely.
Combine everything else"-except the lemon juice, vinegar, and almonds--in a large bowl, and mix well.
Add the drained beans to the bowl. Use tongs to turn the beans until everything is well distributed. Cover tightly and marinate at room temperature, or in the refrigerator if the weather is very hot, for at least 2 hours. (Longer is fine.)
Stir in the lemon juice and vinegar within about 15 minutes of serving. Serve cold or at room temperature, topped with almonds, if desired.