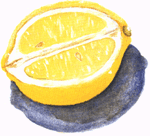 Tahini-Lemon Sauce is very versatile: It can be thinned down to the consistency of a salad dressing or left thick enough to be a sandwich spread or a dip. Find a medium thickness, and use it as a sauce for steamed vegetables. This just may become a regular on your dinner table! Oh, and another attribute: It keeps for weeks in an airtight container in your refrigerator.
3/4 cup sesame tahini
5 tablespoons fresh lemon juice
1 small to medium clove garlic, minced
3/4 to 1 1/2 cups water (depending on desired thickness)
1/2 to 1 teaspoon salt, to taste (varies with amount of water used)
A handful of very finely minced fresh parsley
Cayenne to taste

Place the tahini, lemon juice, and garlic in a food processor fitted with the steel blade. (You can also use a blender.) Begin to process.
Keeping the motor running, slowly drizzle in the water, checking every now and then to monitor the consistency. When it is as thick as you want it, turn off the machine.
Transfer to a medium-small bowl or container, and season to taste with salt, parsley, and cayenne. Cover tightly and refrigerate until ready for use. If you're using this as a sauce for steamed vegetables, serve at room temperature over hot, freshly cooked vegetables (any assortment!).