Very urbane and, how shall I say it? Fin de siècle. But just think: You can turn your own home into a trendy bistro with one quick trip to your state-of the-art grocery store and only about 15 minutes of light work. This easy little appetizer/salad/lunch entrée is something you're going to want to make over and over.

As you remove the leaves from the head of Belgian endive, the core becomes exposed. Only the leaves actually go into this dish, but the core makes a great snack while you're working away.
Some varieties of balsamic vinegar are more acidic than others. The sugar in the recipe is optional, just in case the vinegar you are using tastes too sharp.
Serve Upscale Platter with some good crusty bread as a first course or a light lunch.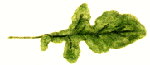 1 to 2 tablespoons olive oil
2 cups chopped radicchio (about 4 1/2 ounces)
1 cup (packed) chopped arugula and/or watercress
A pinch of salt
12 leaves Belgian endive (about 2 4-ounce heads)
1/4 cup crumbled goat cheese
2 tablespoons balsamic vinegar
A pinch of sugar (optional)
Freshly ground black pepper
1/3 cup chopped walnuts, lightly toasted (optional)