---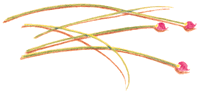 Adapted from
Still Life with Menu Cookbook
Preparation time: Less than 15 minutes
Yield: 3 or 4 servings
This is a subtle and elegant salad with small touches of scallions, walnuts, and currants. Balsamic vinegar is the first choice to use here, but champagne or raspberry vinegar will be just as effective.

* If you clean and dry the greens ahead of time, the salad will take just minutes to prepare. Wrap the cleaned greens in paper towels, then refrigerate in a plastic bag until use.

1 medium-sized head butter lettuce - or a similar soft-leaf variety
1 small bunch fresh watercress
1 or 2 small perfect scallions (or about 6 chives)
A handful of currants
2 handfuls minced walnuts, lightly toasted
2 to 3 tablespoons extra-virgin olive oil or walnut oil
1 scant teaspoon balsamic vinegar
salt and pepper to taste

Clean, thoroughly dry, and chill the greens. Tear into bite-sized pieces, and place them in a salad bowl.

Finely mince the scallions or chives. Add them to the greens, along with the currants and walnuts.

Drizzle in the oil and toss well. Then sprinkle in the vinegar and a little salt and pepper. Toss again, and serve immediately.