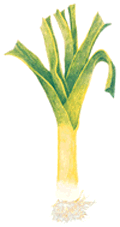 Adapted from
Still Life with Menu Cookbook
Preparation time: 40 minutes
Yield: about 6 servings (a little more, if you add the milk)
Try this very simple, rich-tasting puree of vegetables, which tastes delicious with or without milk added. The watercress is a spunky presence which gives the soup a peppery edge. Go ahead and make this several days ahead of time. It keeps and reheats beautifully.
* This soup is lowfat and possibly vegan (if you use oil and soymilk).
* The vegetable quantities are somewhat flexible, so don't worry if you don't have exact amounts.
1 tablespoon butter or oil
1 medium-sized leek (1-inch diameter), cleaned and chopped
1/2 pound mushrooms, coarsely chopped
1 1/2 teaspoons salt (or to taste)
3 to 4 fist-sized potatoes (peeling is optional), cut into small chunks
4 cups water
2 large cloves garlic, peeled
2 large bunches fresh watercress, chopped (about 2 cups loosely packed)

OPTIONAL:
1 cup milk (can be lowfat or soy), at room temperature
Freshly ground black pepper to taste
Sour cream and/or thin strips of red bell pepper for garnish


Melt the butter or heat the oil in a soup pot or a Dutch oven. Add the leek, mushrooms, and 1/2 teaspoon salt. Sauté for about 10 minutes over medium heat.

Add the potatoes and garlic cloves, and pour in the water. Sprinkle in another 1/2 teaspoon salt. Bring to a boil, partially cover, and lower heat to a simmer until the potatoes are very tender. Remove from heat.

Puree the soup in a blender or a food processer (or directly in the pot with a hand blender). Add the watercress, bit-by-bit, as you purÚe, until it is all incorporated and the soup is smooth. Taste to correct salt.

You can serve this hot, at room temperature, or cold. If you're serving it hot, reheat the soup gently just before serving. stirring in the optional milk at the end. If you are serving this room temperature or chilled, add the milk at any time.

Top the soup with a grind or two of fresh black pepper, a little sour cream and thin strips of red bell pepper, if desired, for a nicely finished look.