by Mollie Katzen
molliekatzen.com
From The Heart of the Plate: Vegetarian Recipes for a New Generation
Makes 5 or 6 servings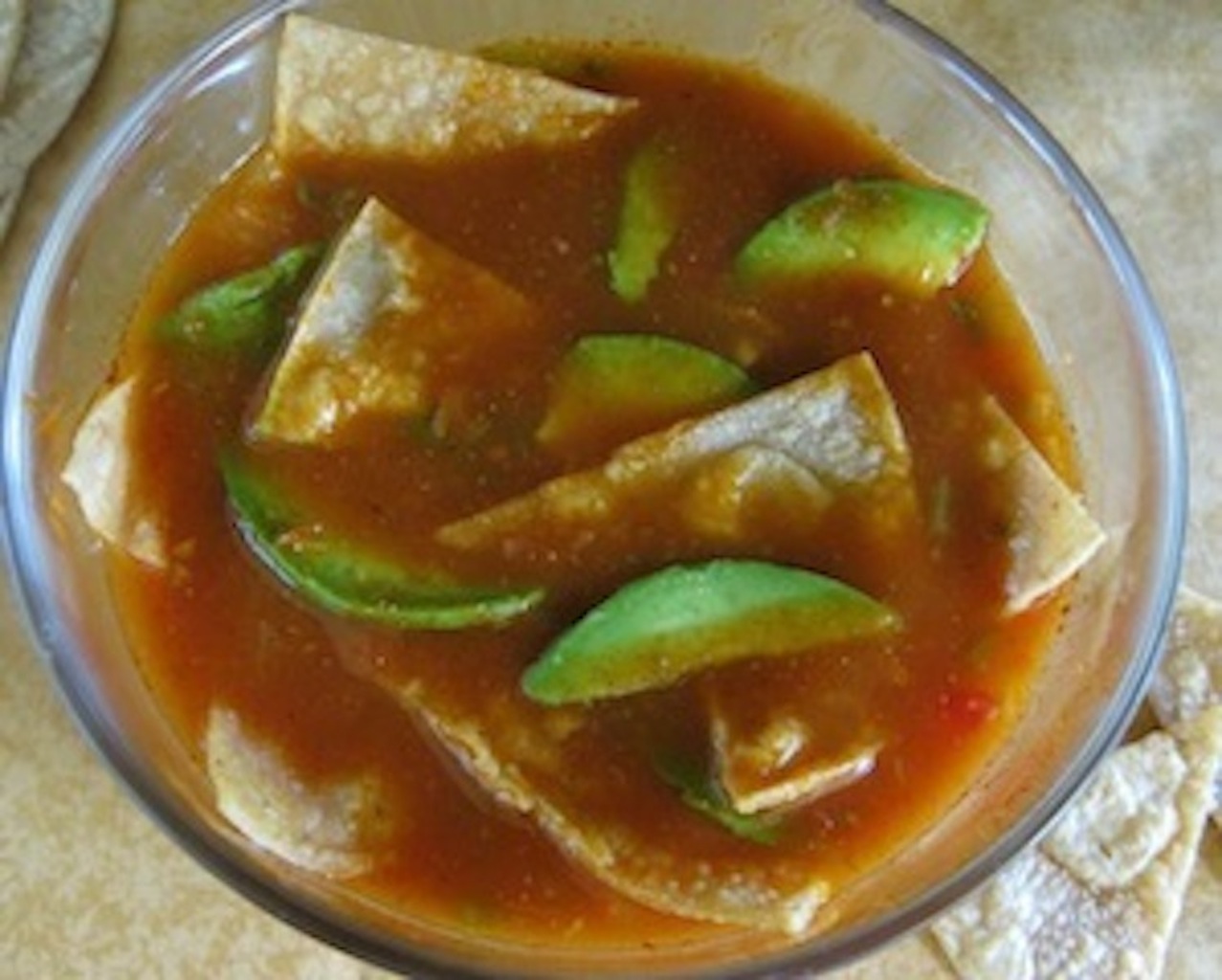 Note: The version of this recipe in the first printings of The Heart of the Plate (page 46 -47) has an error. It should read 4 cups vegetable stock, not 4 quarts. Very sorry for the mistake, which we will fix!)
A deep brick-red broth—spiked just right with chili and spice—provides a backdrop for happily dueling textures: soft avocados, chewy-crisp just-sautéed corn tortilla strips, and pillowy melted cheese. If you choose the optional pumpkin seed and fresh corn toppings, the playground becomes even livelier.
This soup is worthy of real tortillas (as are you) – so please don't short-cut with tortilla chips out of a bag, regardless of how good they might be. There is nothing like the texture of freshly pan-crisped tortillas, still warm and slightly chewy. Prepare them at the last minute, as the soup sits, the avocados bathe in fresh lime juice, and your dinner guests sip their tequila in anticipation. The assembly that follows can then be a hands-on, make-your-own activity that everyone will appreciate – especially if you have all the enhancements set up on the table.
• This calls for a standard chili powder, although there really is no standard formula. They all differ, so find and adopt your own favorite. And depending upon your palate, you could go beyond this (hotter and possibly even smoky) by adding touches of New Mexico chili powder (ground whole, dried New Mexico Chiles) and/or chipotle chili powder (ground whole, dried smoked jalapenos) when you add the regular chili powder.
• The canned tomatoes can be the "fire-roasted" kind. (The soup will be smokier and hotter if you use the kind with added chilies.)
2 tablespoons olive oil
1 ½ cups minced onion (1 medium)
3 medium poblano and/or Anaheim chilies (about ¾ pound), seeded and minced
2 teaspoons chili powder
2 teaspoons ground cumin
Up to 1 teaspoon salt
1 tablespoon minced or crushed garlic
1 quart (4 cups) low-sodium vegetable stock
1 28-ounce can diced tomatoes
Black pepper
Up to ¼ cup minced cilantro (OK to include some of the smaller stems)
2 tablespoons fresh lime juice
1 medium-sized perfectly ripe avocado
4 fresh corn tortillas
Nonstick cooking spray
1 cup grated jack cheese (optional)
Crushed red pepper
Optional Enhancements
• A spoonful of sour cream (thinned by whisking slightly) or crème fraiche or Mexican crema
• Additional minced or torn cilantro leaves
• Toasted pumpkin seeds
• A scattering of freshly shorn sweet corn kernels in season
Place a soup pot or Dutch over medium heat and wait about a minute, then add the oil and swirl to coat the pan. Add the onion, and sauté for about 5 minutes, then add the chilies, chili powder, cumin, and ½ teaspoon of the salt. Sauté for 2 to 3 minutes (imprecise), then stir in the garlic. Cover, and cook another 8 to 10 minutes over medium-low heat, stirring often, until everything is very soft.
Add the stock and tomatoes. Bring to a boil, lower to a simmer, partially cover, and simmer for 10 minutes. Taste to adjust salt and add some black pepper. At this point, you can decide to leave it chunky, or to purée some or even all of the soup (an immersion blender does this most easily). Turn off the heat, toss in the cilantro, cover, and let it stand while you prepare the avocado and tortillas.
Pour the fresh lime juice onto a medium-sized plate with a rim. Peel and pit the avocado, and slice it into the lime juice, swishing it around gently to coat.
Place a skillet of at least the same circumference as the tortillas over medium heat for about a minute. Spray both sides of each tortilla with nonstick spray, and briefly sauté each one on both sides until just this side of totally crisp. (The idea is to retain some chewiness.) Quickly remove from the pan and tear - or cut with scissors - into strips or randomly shaped pieces.
To serve, place a little cheese, if including, in each bowl, ladle in some soup, and top with avocado slices and the tortillas. Serve right away, topped with a light sprinkling of crushed red pepper.