by Mollie Katzen
molliekatzen.com
4 - 6 servings
From The Heart of the Plate: Vegetarian Recipes for a New Generation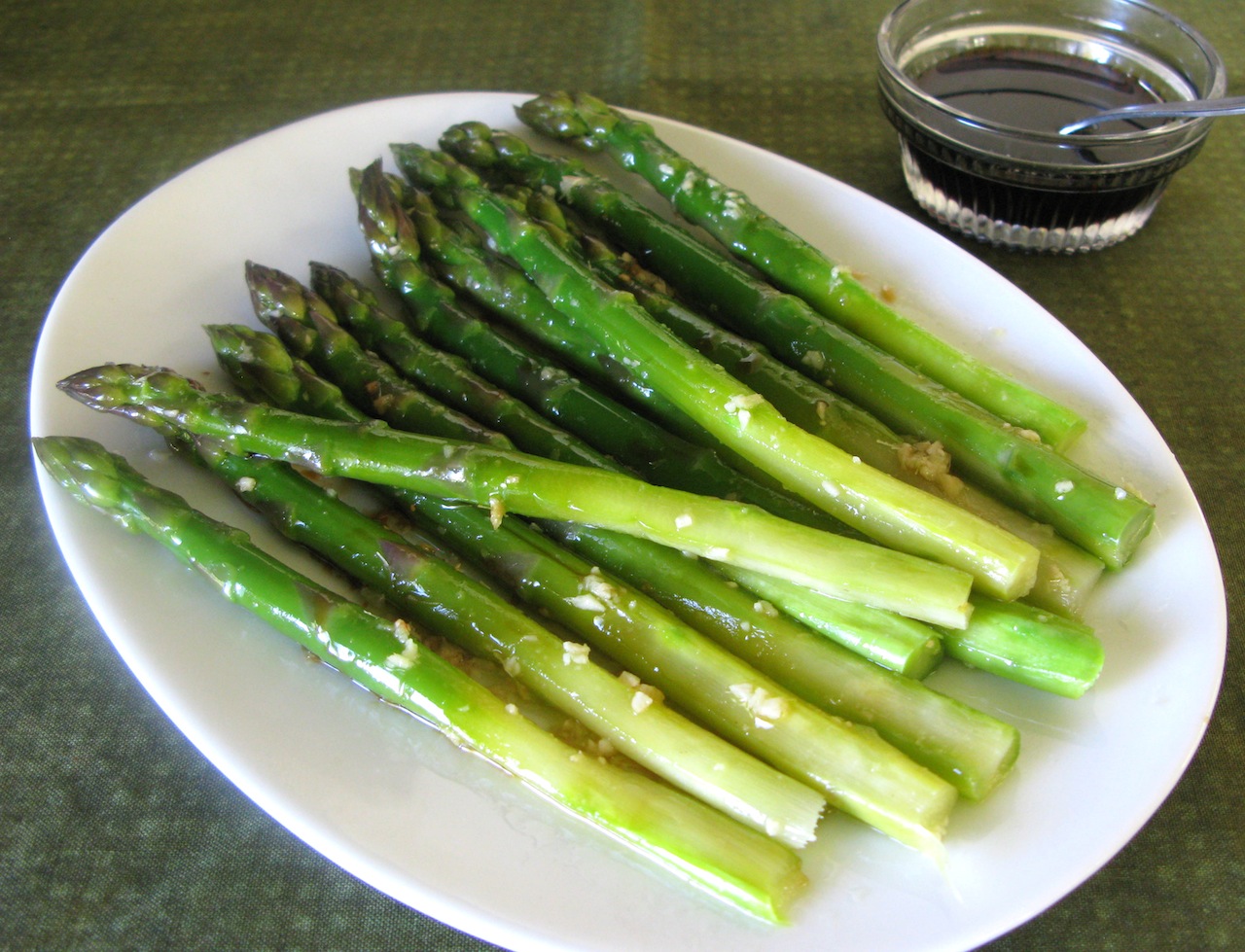 Bright green lengths of lightly cooked asparagus luxuriate in ginger-and-garlic-infused oil before being drizzled with elusive, dark, sweet Soy Caramel. Effective marinating requires contact space—as horizontal as possible. To this end, use a shallow bowl or gratin pan that is a good fit for the volume of asparagus.
• Choose asparagus on chubbier side, for maximally satisfying mouthfuls.
• For optimal beauty and tenderness, prepare it as follows: After you have snapped off and discarded the tough asparagus bottoms, shave the lower half (or so) of what remains by laying each piece on a cutting board and scraping lightly with a heavy-gauge vegetable peeler. (If you don't lay them as flat as possible, they'll tend to break, and for this dish, you want them whole.)
• The asparagus needs at least 30 minutes to marinate, and it's also fine to leave it, covered and refrigerated overnight. Add the Soy Caramel (which can be made well in advance**) just before serving.
** You will need to make the Soy Caramel at least 40 minutes ahead of time.
2 pounds thick-ish asparagus, trimmed of tough ends and peeled about halfway up (see note)
2 ½ to 3 tablespoons grapeseed oil or canola oil
¼ teaspoon salt (possibly a touch more)
1 teaspoon minced or crushed garlic
1 ½ tablespoons finely minced ginger
Optional Enhancements
- Pickled ginger on top
- A shower of scallions— finely minced whites and/or very thin green ovals
- Finely minced sweet cucumber scattered on top
- A little cluster of thin noodles (plain, cooked—lightly oiled) on top —or a bed of them below
Set up a pot or shallow pan of water (or a steamer over a pot of water) and bring the water to a boil. Lower the heat and cook the asparagus in (or steam it over) simmering water until just tender. (You want it firm, but not too crunchy.)
Drain in a colander, refresh under cold running water, then drain again. Pat the asparagus dry with a kitchen towel, then leave it on the towel for a few minutes to dry further.
Combine the oil, salt, garlic, and ginger in a shallow dish of asparagus proportions.
Add the asparagus in a single layer (or as single a layer as possible), rolling it around to get it coated. Let it sit to absorb flavor for at least 30 minutes (longer is fine). Cover and refrigerate if it's going to sit for longer, and/or if your kitchen is hot and/or you like things cold.
Serve at room temperature or cold, laid out on a plate, with a generous spoonful or two of Soy Caramel ladled over the top. Pass the rest of the caramel at the table, for people to drizzle on extra, as desired.