by Mollie Katzen
molliekatzen.com
About 8 servings
From The Heart of the Plate: Vegetarian Recipes for a New Generation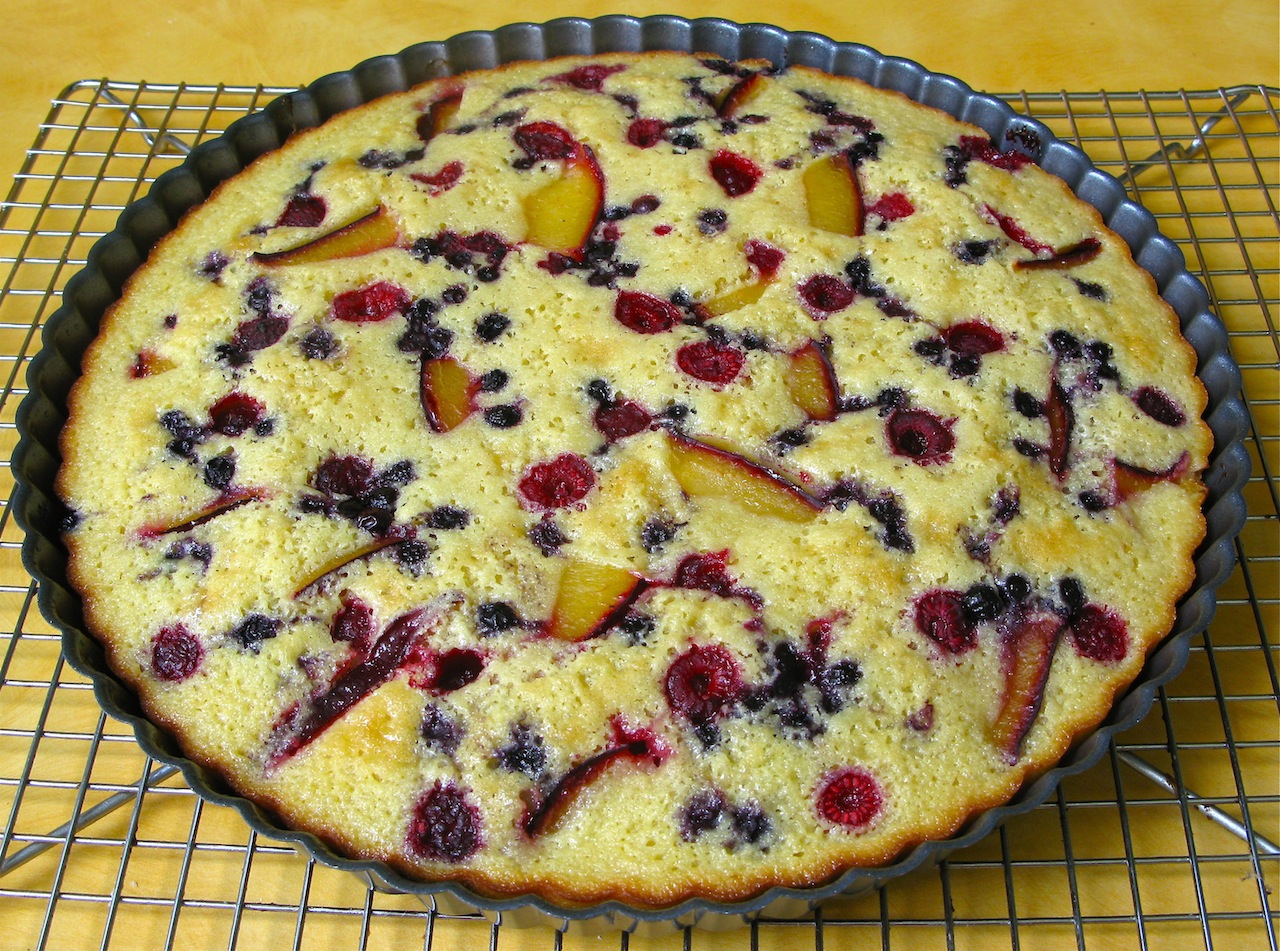 A buttery vanilla cake is the sunny backdrop on which you get to design a dreamy skyscape of berry stars and plum-slice half-moons. A tart pan with a removable rim will add to the splendor.
• Unwrap the butter ahead of time and place it in the bowl to soften.
• You can use fresh berries or frozen unsweetened ones, which can go directly onto the cake without being defrosted.
• If you have more fruit than will fit, just serve it as a bonus on the side.
Nonstick spray for the pan
1 cup (2 sticks) unsalted butter, softened in the bowl
1 cup sugar
1 ½ teaspoons pure vanilla extract
3 large eggs
1 ½ cups unbleached all-purpose flour
1/2 teaspoon salt
1/2 teaspoon baking powder
3/4 cup milk
4 or 5 firm, ripe plums (ideally of various colors)—pitted and sliced
1 cup or more raspberries or small blueberries, fresh or frozen
1) Preheat the oven to 350°F. with a rack in the center position. Lightly spray the bottom of an 11-inch false bottom tart pan, with nonstick spray.

2) Beat the butter for several minutes with an electric mixer at high speed. Add the sugar and vanilla, and beat for several minutes longer. Add the eggs one at a time, beating well after each.

3) In a second bowl, combine the flour with the salt and baking powder, slowly mixing them together with a whisk until uniformly blended.

4) Add the dry ingredients to the butter mixture in two installments, alternating with the milk (dry-milk-dry). After each addition, stir from the bottom of the bowl—just enough to blend— with a spoon or a rubber spatula. Don't overmix.

5) Transfer the batter to the prepared pan, and spread it evenly into place. Arrange the fruit on top of the batter. Bake for about 20 to 25 minutes, or until the cake is golden on the edges, pulling away from the sides of the pan, and springy to the touch. Cool for at least 20 minutes before serving.