Asparagus-Tofu-Noodle Stir-Fry
---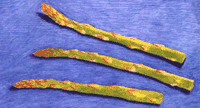 Adapted from: Still Life with Menu
Preparation time: 30 minutes
Yield: 4 servings
You can do steps 1 and 2 well ahead of time. If you cook the noodles ahead, store them in water until use, then drain thoroughly.
8 scallions, minced
1 tablespoon minced garlic
1 tablespoon grated fresh ginger
2 tablespoons soy sauce
1/2 teaspoon crushed red pepper
1/4 cup fresh lemon juice
2 tablespoons Chinese dark sesame oil
3 tablespoons water
1 tablespoon honey or sugar
1/2 teaspoon salt
1/2 pound vermicelli or linguine
1/2 pound tofu, in small dice
2 tablespoons peanut or canola oil
1 pound slim asparagus, trimmed and cut diagonally into 1-inch lengths
12 to 15 fresh mushrooms, sliced or quartered
Toasted sesame seeds and/or cashews for the top

In a small bowl, combine the scallions, garlic, ginger, soy sauce, red pepper, lemon juice, sesame oil, water, sugar or honey, and salt. Stir in the tofu. Cover and let stand for at least 15 minutes (longer is OK . You can prepare the other ingredients during this time.)
Cook the noodles in plenty of boiling, salted water until tender. Drain, rinse in warm water, and drain again.
Place a large wok over medium heat and wait a minute or two. Add 2 tablespoons peanut or canola oil, then turn up the heat. Add the asparagus and mushrooms, and stir-fry for several minutes until the asparagus is just tender.
Add the drained noodles and stir-fry for about 3 more minutes, keeping the heat high. (It helps to use tongs for the stirring at this point.)
Pour in the entire bowlful of marinade-plus-tofu. Cook and stir another 3 minutes or so, or until the sauce is well distributed and everything is heated through.
Serve immediately, topped with toasted sesame seeds and/or cashews.