Chilaquiles
---
Yield: 4 to 6 servings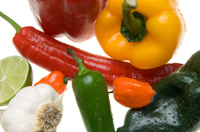 This is is a thick, pudding-like combination of soft corn tortillas, cheese, beans, seasonings, and tofu, baked in a savory custard. Comforting and filling, it tastes as good reheated as it does when served freshly baked. If you have some stale tortillas sitting around, this is the way to employ them! They'll rejuvenate when combined with the other ingredients.
Nonstick spray for the pan
1 tablespoon olive oil
1 tablespoon butter
2 cups minced onion
1 medium Anaheim or poblano chile, seeded and minced
1 1/2 teaspoons ground cumin
1/2 teaspoon salt
2 large cloves garlic, minced
1/2 pound firm tofu, cut into thin slices

12 corn tortillas
2 packed cups grated jack cheese
4 large eggs
2 cups milk
Black pepper to taste

Sour cream
Salsa
Preheat the oven to 375°F. Lightly spray a 9x13-inch pan with nonstick spray.
Heat a medium-sized skillet over medium heat. After about a minute, add the olive oil and swirl to coat the pan. Add the butter, letting it melt into the oil.
Add the onion and chile and sauté over medium heat for 5 minutes. Sprinkle in the cumin and salt; cover and cook 5 minutes longer. Stir in the garlic and tofu, and without further cooking remove the pan from the heat. (It's okay if the tofu pieces break a little.)
Tear 6 of the tortillas into bite-sized pieces and spread them evenly in the sprayed pan from step 1. Distribute half the cooked mixture over the tortillas, and sprinkle the top with half the cheese.
Tear the remaining tortillas and spread these on top of the cheese. Repeat layering with the rest of the cooked mixture and the remaining cheese.
Beat together the eggs and milk, and grind in some black pepper. Slowly pour this custard over the casserole.
Bake uncovered for 35 minutes or until set and lightly browned on top. Serve hot, warm, or at room temperature.