Chocolate Ricotta Muffins
---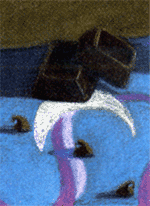 For me, this recipe has been a godsend, creating a great option for breakfast, lunch box, and after school snack–sometimes all in the same day! My children (and husband) love the deeply chocolatey flavor, and I love the rich wholesomeness of the ricotta and the milk.
These taste best made with whole milk ricotta, but will work with the lowfat variety as well.
Canola oil can substitute for some or all of the butter.
Nonstick spray for the pan
2 1/3 cups unbleached all-purpose flour
3/4 teaspoon salt
2 teaspoons baking powder
6 to 8 tablespoons unsweetened cocoa
1 cup sugar
1 cup semisweet chocolate chips
1 cup ricotta
2 large eggs
1 1/3 cups milk
1 tablespoon vanilla extract
4 tablespoons (1/2 stick) unsalted butter, melted<
Preheat the oven to 350°F. Lightly spray 12 standard-sized (2 1/2-inch-diameter) muffin cups with nonstick spray.
Combine the flour, salt, baking powder, cocoa, and sugar in a medium-sized bowl.
Place the ricotta in a second medium-sized bowl, and add the eggs one at a time, beating well with a medium-sized whisk after each addition. Add the milk and vanilla, and whisk until thoroughly blended.
Pour the ricotta mixture, along with the melted butter, into the dry ingredients. Using a spoon or a rubber spatula, stir from the bottom of the bowl until the dry ingredients are all moistened. Don't overmix; a few lumps are okay.
Spoon the batter into the prepared muffin cups. For smaller muffins, fill the cups about 4/5 of the way. For larger muffins, fill them even with the top of the pan. If you have extra batter, spray one or two additional muffin cups with nonstick spray and put in as much batter as you have.
Bake in the middle of the oven for to 20 to 25 minutes, or until lightly browned on top, and a toothpick inserted into the center comes out clean. Remove the pan from the oven, then remove the muffins from the pan and place them on a rack to cool. Wait at least 30 minutes before serving.