Orange-Cherry Corn Muffins
---
Preparation time: 35 minutes including baking (after pitting cherries)
Yield: 10 to 12 muffins, depending on the size

You will love these breakfast gems. They are also great for lunch or afternoon tea. Use sweet, not sour or tart, cherries for this recipe.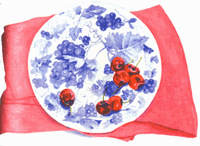 Nonstick spray for the pan
1 cup corn meal
1 cup all-purpose unbleached white flour
1 1/2 teaspoons baking powder
1/8 teaspoon baking soda
1/2 teaspoon salt
1/3 cup sugar
1 tablespoon grated orange zest
1/2 cup orange juice
1/2 cup buttermilk
1 egg
4 tablespoons unsalted butter, melted
1/2 teaspoon vanilla extract
1 1/2 cups fresh or frozen cherries, pitted and sliced
Preheat the oven to 400°F. Lightly spray 10 or 12 standard muffin cups with nonstick spray.
Place the corn meal, flour, baking powder, baking soda, salt, sugar, and orange zest in a medium-sized mixing bowl. Stir until thoroughly blended, and make a well in the center.
Measure the orange juice and buttermilk into a 2-cup liquid measuring cup. Add the egg and vanilla, and beat right in the cup with a small whisk until uniform. Add this mixture, along with the melted butter, to the well in the center of the dry ingredients.
Mix with a few decisive strokes from the bottom of the bowl, until you have a uniform batter.
Use two soup spoons to transfer the batter into the prepared muffin cups. Fill the cups 2/3 of the way for small muffins, or until even with the top of the pan for larger muffins. (the amount you put into each cup will determine the final yield.)
Bake in the center of the oven for 20 to 25 minutes, or until a toothpick inserted all the way into the center comes out clean. Cool on a rack for at least 15 minutes before serving.