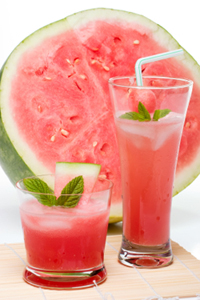 Something wonderful happens when you combine sweet, juicy chunks of watermelon with crunchy, mild pieces of jicama, and then douse the whole concoction with lime juice. (I got the idea during a trip to Mexico, where serving jicama with fresh fruit is common, and sprinkling lime juice on just about any food is second nature.) Crystallized ginger adds heat and intensity to the watermelon, and spikes the lime juice quite nicely.
Watermelon Sparkler can be an appetizer or a salad, a between-course palate cleanser (especially after a spicy dish), or even a dessert. Try it as an opening course for a summer brunchJust be sure to serve it very cold.
The easiest way I have found to mince crystallized ginger is with scissors.
4 cups bite-sized watermelon chunks (seeds removed)
1 cup diced jicama
3 tablespoons fresh lime juice
2 to 3 tablespoons minced crystallized ginger

OPTIONAL:
Twists of lime peel
Lime wedges
Combine the watermelon, jicama, lime juice, and minced ginger in a medium-sized bowl and mix well.
Cover tightly, and chill until cold.
Serve topped with a twist or two of lime peel, and with a lime wedge on the side, if desired.