Strawberry-Rhubarb Crisp
---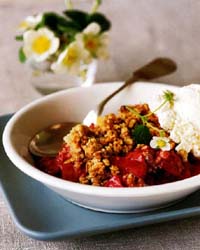 Adapted from The New Moosewood Cookbook
Preparation time: 35 to 40 minutes
Yield: About 6 servings



Strawberries and rhubarb combine beautifully to make a delicious, sweet-tart dessert baked under a very crunchy top. Use the smaller amount of sugar if you like it really tart. Also, have some vanilla ice cream on hand, since you will probably find that you absolutely MUST have this dessert a la mode!
NOTE: You can use frozen strawberries, and you don't need to defrost them first.



2 pounds rhubarb, cut into 1-inch chunks
3 to 4 pounds strawberries, sliced
1/3 to 1/2 cup white sugar
Topping
---
1 1/4 cups rolled oats
1 cup unbleached all-purpose flour
1/4 cup (packed) light brown sugar
3/4 teaspoon cinnamon
A dash or two of nutmeg and allspice
1/2 teaspoon salt
1/2 cup (1 stick) unsalted butter, melted

Preheat the oven to 375°F.
Combine the rhubarb and strawberries in an ungreased 8- or 9-inch square baking pan. Sprinkle with the granulated sugar.
Mix together the topping ingredients in a medium-sized bowl. Distribute the mixture over the top of the fruit, and pat it firmly in place.
Bake uncovered for 35 to 40 minutes, or until the top is crisp and lightly browned and the fruit is bubbling around the edges. Serve hot, warm, or at room temperature, plain or with ice cream.